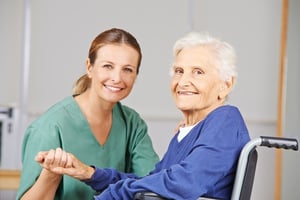 If your medical care providers feel that you need rehabilitation therapy after a serious illness, injury, surgery or a medical event, such as a heart attack or stroke, following that recommendation will mean making some decisions about your care. Usually, the first of those is whether to use outpatient therapy or inpatient rehab to meet your rehabilitation needs. Here, we'll go over 5 frequently asked questions – and their answers – about outpatient therapy to help you make a solid decision.
What's the difference between inpatient rehab and outpatient therapy?
In an inpatient rehab program, rehabilitation therapy is provided to patients, along with medical and nursing care, during a stay in a rehabilitation facility. Outpatient rehabilitation therapy is offered on a by-appointment basis, with patients traveling to therapy clinics, practices or facilities for rehabilitation therapy sessions.
How does outpatient therapy work?
While every outpatient therapy provider has their own way of doing things, you can expect that your first visit will be an evaluation to determine your therapy needs. Using the information gathered from that evaluation, a treatment plan will be devised to meet those needs. Ideally, treatment planning should be a collaborative effort between therapy professionals who will be involved in your treatment, the medical providers who referred you to therapy and you, the patient. Once a treatment plan is in place, sessions with therapists will be set up and a schedule of your upcoming therapy appointments provided to you.
How often will I get therapy, and for how long?
The answer to that question will differ from one patient to another, according to the individual needs and treatment plan of each patient. That being said, most patients can expect to be scheduled for sessions anywhere from 2 to 5 days per week. Visits to your outpatient therapy location will tend to be more frequent if you will be seeing more than one therapist for different types of therapy. Sessions, depending upon the schedule and preferences of your providers, generally range between 30 and 60 minutes in length.
Additionally, in most cases, patients are expected to perform assigned exercises and/or activities on their own, between their therapy sessions. Following through with that homework as directed by your therapists is essential to meeting rehabilitation goals set forth in your treatment plan.
What types of therapy are offered on an outpatient basis?
The types of therapy available to patients differs from one outpatient therapy provider to another. However, most outpatient rehabilitation programs will be able to provide the top 3 types of rehabilitation therapy: physical therapy, occupational therapy and speech therapy. Many will offer several other forms of therapy, with the more common types being cognitive therapy, recreational therapy, hand therapy and visual therapy.
Is outpatient therapy right for me?
A specific answer to this question is best sought through detailed discussions with your healthcare team. However, in general, outpatient therapy may be an appropriate option for people who are recovering from a mild to moderate injury or medical incident that has not caused serious impairment in their ability to manage their daily routines and their own recovery process.
In other words, if you are confident in your ability to manage your own self-care during your recovery, including medications, wound care, bathing, dressing, and meal preparation, for example, and get to therapy and medical appointments reliably, outpatient rehab might be right for you. On the other hand, if managing the details of your recovery and rehabilitation on your own will place you in a difficult or unsafe situation, an inpatient rehab program is likely your best option.