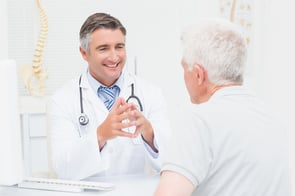 Physical therapy and occupational therapy are two rather closely related fields—so closely that many people are under the impression that the terms are interchangeable. While both types of therapists may work with similar patients, injuries and conditions, there are distinct differences between the two. Here we'll go over those differences to help potential patients clear the air about these therapies, making it easier for them to pursue the most suitable treatment for their specific needs.
The Focus of Treatment
Perhaps the biggest difference between physical therapy and occupational therapy is the ultimate focus of a patient's treatment plan. Physical therapists focus on rectifying impairments or physical limitations—such as those caused by injury, surgery or chronic conditions like arthritis or osteoporosis, for instance—helping patients strengthen muscles, regain balance and flexibility and/or reduce pain to improve overall mobility and functional ability.
Occupational therapists, on the other hand, are focused on remediation of impairments and limitations. While they may, like physical therapists, work to help patients increase strength and flexibility to minimize impairments, they also help patients learn practical techniques to work around the difficulties imposed on their lives by those impairments. The goal is to maximize their ability to do the things they want and need to do despite these issues, increasing day-to-day function and independence.
Methods of Treatment
Physical therapy uses methods of treatment that include manual therapy techniques such as massage or heat and cold therapies. Therapeutic stretching and exercise are generally used as well, and physical therapy may also include balance training, gait training and education in proper body mechanics and injury prevention. Physical therapists may also recommend medical and/or assistive devices, such as walkers, canes, shower chairs or wheelchairs, for example.
Occupational therapy may also use manual therapy techniques, stretching, and exercise to increase strength, flexibility and mobility. Hand strengthening techniques are commonly used, as are activities to improve fine motor skills. Occupational therapists often recommend and train patients in the use of adaptive equipment to aid in compensating for impairments or limitations, such as reachers, specialized utensils, dressing aids or splints, and may suggest environmental accommodations at home or in the workplace to improve a patient's ability to function independently.
So which therapy do you need?
Many patients can benefit from both forms of therapy. Typically, patients for whom both are recommended are those who are recovering from surgeries, especially joint replacement and other orthopedic surgeries, those who are rehabilitating after a stroke or cardiac event, or those who have lost a great deal of mobility and function to chronic health conditions.
Patients who need help regaining overall strength and mobility and reducing pain in the aftermath of an injury or health event—those for whom fixing or improving an impairment or debilitating issue is the chief goal—may benefit most from physical therapy. However, patients who need help learning to function to their highest potential in spite of the effects of a disabling injury, health event, or degenerative condition may find greater benefits in occupational therapy.
All in all, the right therapy for you is all about the ultimate goal of treatment and the specific difficulties you would like to address via therapy—issues that your health care and/or rehabilitative care team can help you clarify as you weigh your treatment options.