If you suffer from COPD or have recently undergone lung surgery, your doctor may recommend that you consider pulmonary rehab. He or she may recommend a number of different centers, or you may start researching on your own. However, with such a wide variety of treatment centers available, it can be tough to know what to look for! In this article, we'll take you through the critical points to consider when you're choosing a pulmonary rehab facility.
What is a Pulmonary Rehab Center?
Pulmonary rehab is a form of treatment designed to help those suffering from chronic lung conditions, such as COPD or cystic fibrosis, to manage their symptoms better and achieve a higher quality of life.
It is intended to be offered alongside medical intervention and may include supervised exercise, breathing training, nutritional counseling, and education on your disease and how to manage it. Pulmonary rehab can be offered as an outpatient program in a hospital, or at a specialized pulmonary rehab center. These centers offer the resources, personnel, and facilities needed to help improve the symptoms of chronic lung conditions.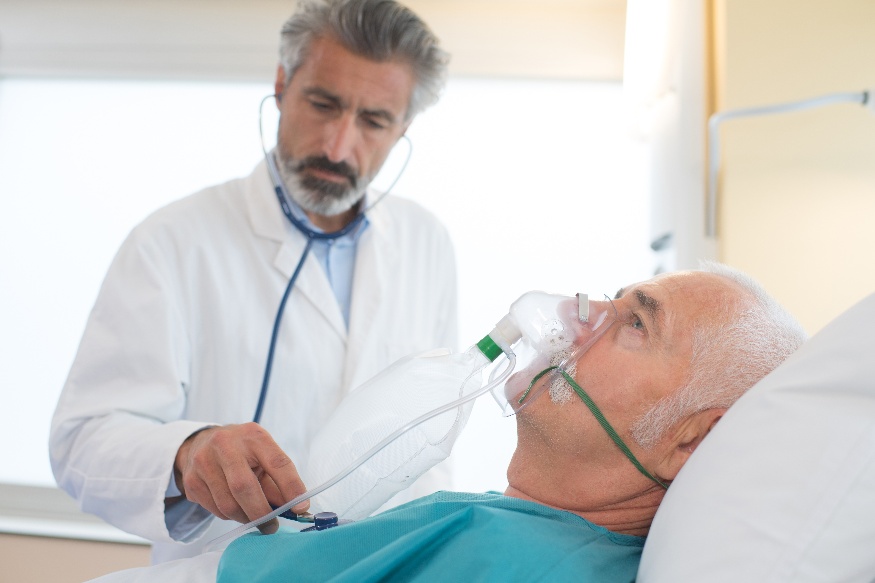 When Should You Look for a Pulmonary Rehab Center?
Of course, before you select a center, the first question to consider is whether or not you actually need pulmonary rehab. COPD is a progressive disease, but depending on the severity of your symptoms and the recommendations of your doctor, you may be able to manage your COPD yourself. Making major lifestyle changes, such as quitting smoking, using breathing techniques, partaking in regular exercise, and following a healthy eating regime, can all have a major impact on your quality of life and reduce symptoms of COPD.
However, if any of the following issues apply to you, it might be time to start looking for a pulmonary rehab center:
You are struggling with your everyday life and find it hard to manage day-to-day tasks because of your COPD symptoms.
You have other serious conditions that often occur alongside COPD, like heart disease, diabetes, or depression.
You have severe lung function impairment, as measured by an FEV1 test or similar medical evaluation.
You would like help and support to make the necessary lifestyle changes to improve your COPD symptoms, or to better manage your medications and treatment.
How Can You Find Pulmonary Rehab Facilities?
Depending on your medical situation or insurance provider, different options may be available for you. In some cases, your healthcare provider may be able to refer you to a qualified program.
You can learn more information about Rehab Select's facilities with pulmonary rehabilitation programs here.
What Should You Look for in a Pulmonary Rehabilitation Center?
Once you've decided that you'd like to move forward with pulmonary rehab, you'll need to choose a center. Here are five areas to look out for when selecting where to go for your rehab treatment:
1. Medical Specialization
Pulmonary rehab can be an incredibly effective form of treatment for COPD - for instance, in a study published in the European Respiratory Journal, researchers found that pulmonary rehab "was effective in improvement of exercise tolerance, lung mechanics and quality of life in all stages [of COPD]".
However, delivering a successful rehab program for patients with chronic lung disease is a highly specialized process. For instance, you may need expert help managing your medications, or modifications to the medications you're taking. You should make sure that the center you choose has the specialist medical and nursing staff necessary to really make a difference to your well-being.
2. Specialized Pulmonary Facilities
As well as pulmonary specialists, the medical center you choose for COPD rehab should offer a range of specialist treatments appropriate for lung conditions. For instance, as well as physical therapy, your rehab provider should be able to offer oxygen therapy, supervised exercise facilities, nutritional guidance, education in self-care and symptom management, and training in breath control techniques.
3. A Full Team of Pulmonary Specialists
A complete pulmonary rehab program should involve a team of rehab specialists - so you'll need to make sure that a full team will be available to you as part of your rehab program.
For instance, as well as a specialized pulmonary physician, you may need to work with a nutritionist, exercise physiologist, physical therapist, rehab nurse, or an occupational therapist. You should look for a center that provides a coordinated, individualized rehab program that brings together multiple aspects of treatment to ensure you get the most out of your time.
4. Customized Treatment Programs
COPD is a complex disorder. There are three main types of COPD:
Emphysema, in which the alveoli in your lungs weaken and rupture over time, resulting in shortness of breath;
Bronchiectasis, in which the walls of your bronchial tubes thicken due to infection or inflammation;
Chronic bronchitis, in which the lining of your bronchial tubes become inflamed
All of these conditions may require different types of treatment and different approaches to rehab.
In addition, many COPD sufferers also struggle with additional health issues. For instance, a study in Medicine revealed that "cardiovascular and cerebrovascular diseases, endocrine and metabolic disorders, psychiatric and neurological disorders, gastrointestinal diseases, musculoskeletal disorders, non-COPD respiratory conditions, and cancer, were significantly higher in COPD patients than in the non-COPD control patients."
In other words, COPD can be a complicated condition to treat, and pulmonary rehab programs need to be carefully customized to the needs of every individual patient. A well-designed rehab program should begin with a complete physical assessment, but also an in-depth interview to take your current lifestyle, medical history, needs, and unique circumstances into account.
5. Career Support and Training
COPD is a tough condition to live with. It can be exhausting, physically limiting, and emotionally draining. It can also mean that you need to turn to your loved ones for help and support. A pulmonary rehab program should also offer your care providers guidance on how they can best support you and help you to deal with your symptoms. Look for a pulmonary rehab center that offers training and education for caregivers, such as seminars, workshops, or resources to take home, so that your progress will continue even after you complete your rehab program.
Pulmonary rehab can be an excellent way to start managing your lung condition, improve your quality of life, brighten your mood and gain more energy. A customized rehab program should deliver results that you can actually measure, such as improved lung function, easier walking, and better resting heart rate and blood pressure metrics. However, choosing a pulmonary rehab center requires careful research to make sure you get the most out of the time you put in. If you would like to know more about the specialized pulmonary rehab facilities we offer at Rehab Select, we invite you to schedule a tour or contact the office for more information.