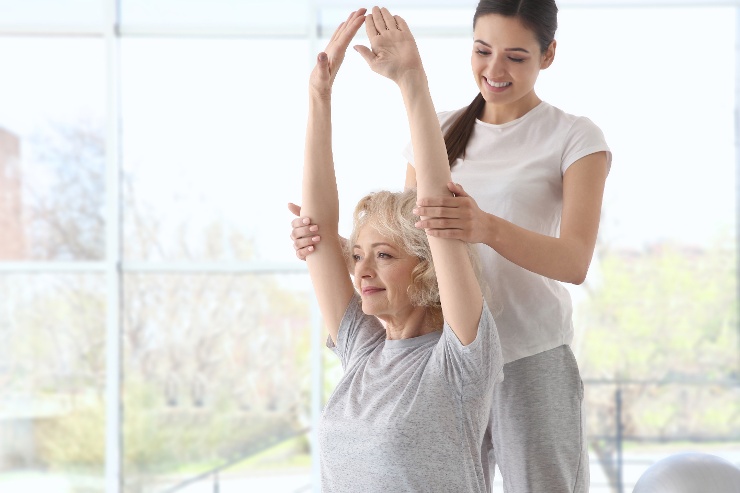 Pulmonary rehabilitation involves teaching and training patients with chronic lung disease to breathe better. Your dedicated healthcare team designs a personalized rehabilitation program to help you in several ways.
Increase activity levels
Exercise with less difficulty
Perform daily tasks with greater ease
Prepare or recover from lung surgery
Reduce hospitalization
If you experience shortness of breath, despite using medications to control your symptoms, you may be a good candidate for pulmonary rehabilitation. Pulmonary rehabilitation is often recommended for those with lung conditions such as:
COPD
Severe asthma
Interstitial lung disease
Emphysema
Cystic fibrosis
Lung cancer
Sarcoidosis
A team of doctors, nurses, dietitians, and physical and occupational therapists all play a crucial role in developing your customized program.
To help you understand a little more about what to expect during pulmonary rehabilitation, we put together six factors to take into consideration.
6 Factors You Should Know About Pulmonary Rehab Program
1. You'll learn more than just breathing exercises during pulmonary rehabilitation
When you first heard about pulmonary rehabilitation, maybe you weren't sure what it meant or figured you'd be learning a bunch of breathing exercises. Breathing exercises do play a major role in lung function rehabilitation because they've been proven to make your lungs work more efficiently.
However, breathing exercises aren't the only technique you'll learn. The following therapies may also be included in a comprehensive treatment plan:
Preventive techniques
Environmental adjustments
Medication
Oxygen supplementation
Diet
Relaxation techniques
Psychological support
The goal of pulmonary rehabilitation is not only to help you breathe easier, but to help improve your overall quality of life, and your providers use as many effective techniques as possible to provide that for you.
2. Exercise is a crucial component of pulmonary rehabilitation
Although you may feel like exercise is impossible with a lung condition or you think your focus should be on resting, exercise is one of the most beneficial activities for lung and overall body function. You can even train the muscles that are responsible for breathing to make them stronger.
Exercise also builds your fitness level and stamina so you can perform daily tasks without having to stop so many times for shortness of breath. Eventually, your body requires less oxygen to perform the same routines. On the other hand, reduced activity can cause lung function to deteriorate.
Your healthcare team takes measures to ensure your safety during exercise so you don't have to worry about overexerting yourself either. Your therapist monitors your oxygen levels, heart rate, and blood pressure during your sessions to help you maintain optimal rates. Medical supervision is critical during your journey to rehabilitation.
3. Program success depends on ongoing participation and progression
Like other physical therapy, one rehabilitation session isn't enough to build lasting change in your body. Each session you attend and the exercises you do at home have an accumulative effect.
Like training for a marathon, you probably wouldn't just show up on race day without completing months of progressive training. Likewise, your body may require months of gradual pulmonary training to reach your goals and maximize your function.
Just like a marathon runner, you also need to take a proactive role in your own improvement. Your supporters and providers can guide you, but the amount of effort you put into your recovery determines how fast and far you will progress.
4. You can feel better
Although chronic conditions like COPD and cystic fibrosis are irreversible, they don't dictate an uncontrollable decline of health. You can take intentional steps to slow the progression and instead work toward improving your daily life, which is exactly what rehab equips you to do. Many of the therapies provide benefits for even those in advanced stages of lung disease.
The techniques you learn in therapy improve not only your physical health but also your psychological well-being. Counseling can be incorporated into your program to help you better manage your relationship with lung disease. You can learn how to cope with your condition, find confidence in your abilities, and increase the positive influences in your life.
Some of the healthy lifestyle changes you make also provide preventive benefits against other chronic diseases that could further complicate your condition such as heart disease and diabetes. The techniques you use to improve lung function also have benefits for your heart, bones, endocrine system, and much more.
5. Not smoking makes rehabilitation more successful
Smoking is a major risk factor for lung disease and also complicates the condition once it appears. Smoking is the top cause of lung cancer and COPD deaths and the top cause of preventable disease and death in general all over the world.
When you stop smoking, you eliminate further cigarette-related damage to your lungs and slow the progression of lung disease. Your lungs, heart, muscles, and nearly every bodily system benefits when you quit smoking.
If you smoke when you start your program, your providers will recommend quitting as part of the rehabilitation process. They can incorporate a smoking cessation program into your plan to help you quit and get the most out of rehab.
6. You should see measurable results after rehabilitation
Your medical providers will take tests before, during, and after the program to assess your improvement. You're always welcome to ask to see your test results and learn what they mean about your progress.
Some of the tests your providers might use include:
Lung function tests
Walk test
Exercise capacity
Heart rate
Blood pressure
Your medical team can explain the significant changes your rehab makes. You may notice your heart doesn't have to work as hard and your oxygen levels improve after rehab. You might also find it easier to perform everyday activities such as climbing stairs and carrying groceries. After you put in all your hard work, you may find it validating to observe your progression in both recorded and observed changes.
Life After Discharge
Although a lung disease diagnosis can be frustrating, it doesn't have to take away the ability to enjoy your favorite activities. The healthcare allies behind pulmonary rehabilitation programs design the plans to help you live at your greatest capacity.
During your inpatient or outpatient program, you learn how to continue your exercises at home and apply your new skills in everyday life. The goal of treatment is to return your body to optimal function and restore maximum independence and quality of life.
Once you complete your pulmonary rehabilitation program, your team provides you with all the tools and recommendations you need to move forward with the lifestyle changes you make.
You should also continue to follow up with your providers at predetermined intervals to make sure your condition stays properly managed. If you continue to practice what you learn and check in with your doctor, you'll have an easier time maintaining the results you gain upon finishing the program.
Rehab Select offers pulmonary rehabilitation services as part of their outpatient and long-term nursing care programs. If you're looking for a rehabilitation program at a skilled rehab facility in Alabama, schedule a tour at Rehab Select or contact the office for more information.