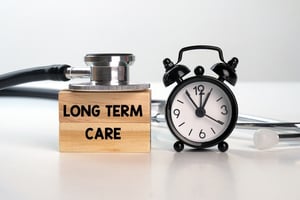 If you or a loved one need more care than can be reliably provided at home, a good long term care facility is probably your best bet. So how do you go about choosing a facility? The first decision you'll have to make is which type of facility you'll need. Here's what you need to know to ensure that you're well-prepared to choose a facility that provides the level of care that best suits your needs.
When choosing a long term care facility, your basic options are assisted living facilities, skilled nursing facilities and nursing homes. The key difference between the different types of facilities is the level of care they provide to the clients they serve.
Assisted Living Facilities
Assisted living facilities are basically housing with help. Residents rent living quarters, which may consist of an apartment or a room, in an assisted living building, complex, or community and are provided a range of services. Services vary from one facility to another, but many offer 24-hour supervision, meals, laundry, transportation, housekeeping, social and recreational activities, and personal care, such as assistance with bathing, dressing and toileting. Many also offer medication management services and some limited medical/health services. These facilities are best suited to people who need a bit of help with basic household tasks and/or personal care and hygiene, due to physical or cognitive limitations, making it difficult to care for themselves safely at home, but are otherwise fairly independent.
Skilled Nursing Care & Nursing homes
These two options are often lumped together since they are similar in many ways, and both types of care are often offered within the same facilities. However, there are some differences in the level of care each provides.
Skilled nursing facilities are designed to care for individuals who have daily medical care needs, require rehabilitative therapy and services and/or have illnesses or impairments that require close medical monitoring. They are equipped to serve people who need a relatively short stay to recover and rehabilitate after a medical incident as well as those who have a need for ongoing skilled nursing care due to chronic illness or disability.
Nursing homes are more focused on custodial care, which is basically personal care and low-level nursing care. This level of care caters primarily to clients with chronic illnesses or impairments that need assistance with activities of daily living and 24-hour supervision but do not need complex daily nursing/medical care.
Making your best choice as to the type that would be best means knowing exactly what sort of care you will need. If you or your loved one is being discharged from an acute care hospital after a surgery, major illness or medical event, and need help to recover and rehabilitate, a skilled nursing facility that offers intensive rehabilitative services and medical care is likely your best choice. If care needs are less intensive, nursing home care or assisted living facilities may be suitable.
If you aren't sure which level of care is most appropriate, a long term care needs assessment is the best way to find out. Your health care team or hospital discharge planner can help you make arrangements for an assessment, or you can contact your local senior center for help in finding the services you need.