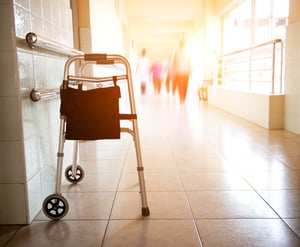 Long term care facilities meet the care needs of people who are, either temporarily or permanently, unable to care for themselves. That care is focused on services that work to improve or maintain health, well-being and physical and cognitive function, promote independence and maximize quality of life. There are various types of long term care facilities in operation today to meet differing types and levels of care needs. Here we'll outline those types of facilities and the benefits offered by each to the individuals they serve.
Assisted Living Facilities
Assisted living facilities are housing options for people who need some assistance with medical and/or personal care. They offer a variety of support services to residents to facilitate a fairly independent lifestyle. Living spaces for residents may be apartments, individual rooms or shared spaces, and these facilities typically have a very home-like atmosphere. Services vary from one facility to another but often include meals, social and recreational activities, medication monitoring, supervision, personal care services, housekeeping, laundry, and, in many cases, some medical services. These facilities benefit individuals for whom completely independent living is difficult, unsafe, or lonely, but they do not require the level of care provided in nursing homes or skilled nursing facilities.
Rehabilitation Facilities
These facilities offer expert support for recovery and rehabilitation in people who have suffered debilitating injuries, surgeries or medical events. The focus of care in these facilities is to aid patients in regaining health and function lost to these health issues, facilitating a return to independent living as quickly as possible. Intensive rehabilitative therapy and care are delivered by a multidisciplinary team of rehabilitation specialists according to customized treatment plans designed to meet the individual needs of each patient. Patients benefit from this form of long term care in terms of faster, more complete recoveries and greater functional gains than are typically obtained via less intensive recovery/rehabilitation care options.
Skilled Nursing Facilities and Nursing Homes
While these two terms are often used as if they are interchangeable, there can be significant differences between nursing home care and skilled nursing care – even though both levels of care may be offered under one roof in some facilities.
Skilled nursing facilities offer care to individuals who have medical problems that require daily skilled nursing care. Patients may be admitted for several weeks or months to recover and rehabilitate after a serious medical event or may become long term residents if ongoing care is required. Service includes medical care, personal care, and physical, occupational and speech therapy, among others. Individuals who can benefit from skilled nursing facility care include those who have a documented need for 24-hour medical supervision and care due to acute or chronic health problems.
Nursing homes also offer care to individuals who need 24-hour supervision and care. However, they differ from skilled nursing facilities in that they primarily provide custodial care – which is assistance with non-medical care, such as bathing, dressing, grooming and eating. People who can benefit from nursing home care include those who do not need daily skilled medical care, but suffer a physical disabilities or cognitive impairments that make personal care assistance and/or supervision necessary for continued health and well-being.
If you are weighing long-term care options for yourself or a loved one and are not sure which of these will best suit your current needs, a needs assessment can help. These assessments evaluate eligibility for institutional or community-based care. Hospital social workers, discharge planners, primary care physicians or local senior centers can offer help in obtaining these assessments.