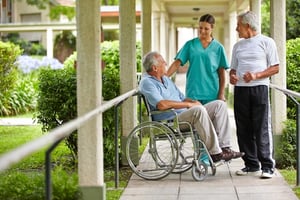 Has long term care been suggested to meet your needs or those of a loved one? If so, you're likely to have questions about this type of care. What is long term care? Why might it be right for your situation? What types of patients can benefit from this sort of care? Here, we'll look into these questions to help you get a better idea of what long term care is all about and when it may be an appropriate care option.
What is Long Term Care?
Long term care is a range of services designed to help individuals who have become unable to care for themselves. This may be a temporary situation, due to an accident, injury or medical event, or an ongoing one, due to chronic or progressive health conditions, disability or aging, for instance.
Long term care is provided in a number of settings, ranging from a person's private home, using home health care services, to assisted living centers, nursing homes and skilled nursing facilities.
Depending on the specific circumstances of individual patients, long term care may be provided for a few weeks or months as a person recovers from a debilitating illness or medical event, or could be ongoing for patients who have chronic care needs.
9 Types Of Patients Long Term Care Helps
Long term care can be a good option to help patients under a variety of circumstances. Here are 9 examples of types of patients it helps:
Patients who have complex medical needs, requiring 24 hour medical care and/or monitoring to maintain health and well-being
Patients who are recovering from serious and/or debilitating medical events, such as stroke, heart attack or cardiac surgeries
Patients who are recovering from injuries, such as hip fractures, for example
Patients recovering from joint replacement procedures or other orthopedic surgeries
Patients who have temporary or long term disabilities that interfere with mobility
Patients with temporary or permanent physical impairments that affect their ability to manage basic activities of daily living, such as bathing, dressing or toileting, for instance
Patients who have difficulty managing necessary household tasks, such as food shopping, meal preparation, basic cleaning and maintenance, and/or keeping up with bills, for example
Patients who need help to manage medications appropriately or have difficulty keeping track of or getting to medical appointments
Patients with Alzheimer's disease, dementia, or other cognitive issues that impact safety and/or quality of life
Basically, any patient who may be unable to function on their own at home safely and independently can be helped by long term care – whether this is a temporary situation, with that person needing help for a few weeks before regaining their independence, or a permanent one that creates a need for ongoing help. If you still aren't sure whether or not you or your loved one can benefit from this type of care, speak to your healthcare provider about a needs assessment.
Not only can these assessments help you determine whether long term care is right for you or your loved one, but they can also help you figure out just what level of care would be of the most benefit, whether that is home care, an assisted living center or a long-term care facility.