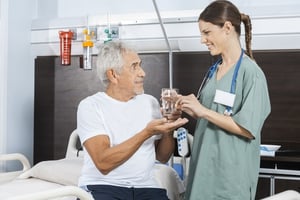 If you're in the process of choosing a long term care facility to meet your care needs or those of a loved one, there are lots of factors to consider as you evaluate and compare facilities in your area. Many people who are in the midst of this process wonder whether or not the size of a facility is one of those factors. What differences can they expect to find between large long term care facilities and smaller ones? How can those differences affect quality of care and/or quality of life?
Since each long term care facility is different – even those of comparable size – comparisons between large and small facilities are somewhat difficult to make. However, there are some basic differences that can generally be found between them, such as:
Range of services offered – In many cases, larger facilities, those with 100 or more beds, are able to offer a wider range of services and conveniences than can smaller long term care centers with tighter budget margins. For instance, larger facilities often offer more comprehensive and intensive rehabilitation services than smaller ones and are more likely to be able to accommodate specialized medical care needs. Larger facilities also tend to offer more comprehensive discharge planning and support services than smaller ones, increasing the odds of success as clients make the transition from inpatient care to more independent living after short-term rehabilitation treatment is complete. Conveniences, such as Internet access, laundry services and barber/beauty shops, for example, are also more common in larger facilities.

Staffing matters – Larger facilities are often better staffed than smaller ones, with operations enabling a greater number of employees. Often, that staff is more varied, going beyond the minimum requirements to include on-staff physicians and specialists and 24-hour registered nurse coverage to serve resident needs more effectively.

Facilities, technology and equipment – Long term care facilities that cater to a larger number of clients are more likely to have the means to keep their facilities updated. This ensures that their short and long term residents are provided access to the most modern and effective technologies, equipment, therapies and treatment methods to facilitate high-quality care and/or effective recovery and rehabilitation.
Clearly, these points can have an impact on the quality of care and quality of life you can expect during a stay in a long term care facility. However, it is important to remember that these are very generalized comparisons, so you may find both large and small facilities that do not fit into these molds. For that reason, it is important to take the time to do your own research into what each facility in your area has to offer.