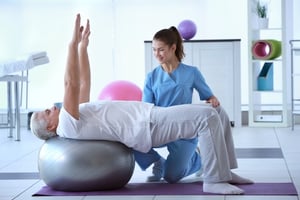 Most of us, after a surgery and hospital stay, are eager to return home and back to our everyday lives. While this is certainly understandable, it is not always the best course of action in terms of making your best and safest recovery. It is important to realize that what happens after surgery – as you heal, recover and rehabilitate – can be just as important to your overall outcome as the procedure itself. Given that fact, inpatient rehab centers can often be the best option for ensuring optimal recovery results.
Here are a couple of good reasons to choose an inpatient rehab center for post-surgery recovery.
Intensive, Comprehensive, Well-Rounded and Personalized Rehabilitative Treatment
Inpatient rehab centers are focused on one primary goal - to help patients make the best possible recovery in the shortest possible time. In order to achieve that goal, each patient is provided with comprehensive treatment that is tailored to their individual care and recovery needs.
Patients work with a physician-led, multidisciplinary team of rehabilitation professionals to develop their own personal treatment plan, which is then put into action by that team. Members of the care team typically include rehabilitation physicians and nursing staff, physical, occupational and speech therapists, medical specialists, nutritionists, case managers and social workers, among others, depending upon the specific needs and preferences of each patient.
Treatment plans are designed to be intensive in order to ensure that recoveries move along as quickly as is medically advisable. Patients are provided with a minimum of three hours of therapy per day, and depending upon the facility, sessions may occur anywhere from 5 to 7 days per week. In most facilities, patients also have free access to rehabilitation equipment and facilities to work towards their recovery goals between therapy sessions. Medical care, nursing and personal care are available to patients 24 hours per day, and patients are carefully monitored for any medical issues or complications.
In contrast, outpatient or home-based rehabilitation programs are typically much less intensive, offering two or three hour-long sessions per week. If you need several types of therapy, that typically means separate appointments with each therapist. Additionally, any other care you need, including medical follow-up, wound care, personal care, pain management or nutritional counseling, will have to be seen to separately.
Ability to Focus Exclusively On Your Recovery
Having this level of care and treatment at your disposal after surgery will allow you to focus on your recovery. You will be free of the hassles and worries that you would face by going directly home after your hospital stay, including caring for your surgical wound, watching for signs of infection or other complications, picking up medications and other supplies, and keeping track of medication dosages and schedules. You will not have to worry about getting groceries, preparing meals or cleaning up after them, nor will you have to manage appointments with therapists, doctors and specialists – or transportation to and from those appointments. You will not need to worry about getting someone in to help with household chores, or feel pressured to manage them on your own before you feel ready.
Basically, with the comprehensive care and assistance provided by inpatient rehab centers, all you will need to do is work with your care team daily to make the most of your recovery and rehabilitation period. All those other tasks – and the stress and anxiety that often comes with them – will be taken off your hands, making it easy for you to focus your mental and physical energy on what really matters: Getting back on your feet and back to your life.