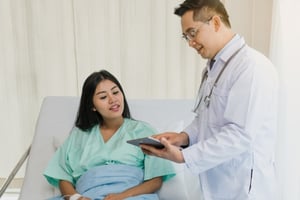 Inpatient physical therapy offers intensive rehabilitation therapy and comprehensive care to people who are affected by functional and/or medical difficulties. Common examples of when it is needed are the aftermath of a serious accident, illness or injury, during recovery from a stroke or cardiac event, or during surgical recovery, particularly orthopedic procedures. So how do you know if inpatient physical therapy is right for you? Here are some important questions to ask yourself and your medical care providers to help you decide:
Are my rehabilitation and/or medical needs complex?
That's because choosing inpatient physical therapy means receiving 24 hour nursing care and medical monitoring, as well as a minimum of 3 hours of rehabilitative therapy daily. You will also have consistent access to rehabilitation physicians, pain management specialists, physical, occupational and speech therapists, nutritionists and other members of the multidisciplinary team of rehabilitation and medical professionals that will be responsible for your care.
Do I have significant impairments that might make going straight home from the hospital difficult and/or unsafe?
Is minimizing recovery/rehabilitation time a priority?