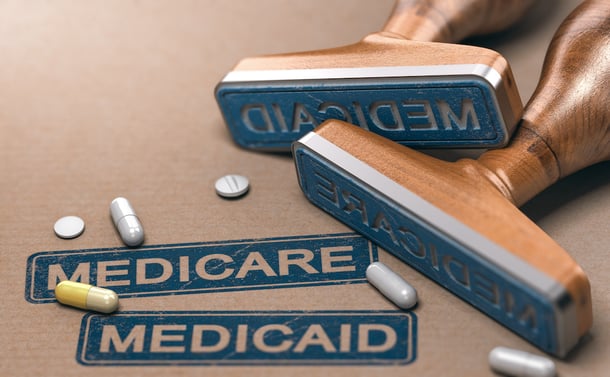 If your loved one suffers from Alzheimer's disease or another type of dementia, memory care will likely be an important option as the condition progresses. The cost of such care can be substantial for many families, but there are ways to get financial aid from Medicare and Medicaid.
Download our ebook to learn the most important factors when considering memory care services for your loved one with Alzheimer's or dementia.
Here are answers to some commonly asked questions to help you navigate Medicaid and Medicare for memory care.
Does Medicaid Pay for Memory Care Facilities?
Many states have assisted living waivers, which extend Medicaid coverage so that seniors can receive long-term care in settings other than nursing homes. Depending on your state, Medicaid benefits for Alzheimer's and dementia may cover care provided at home, adult day care centers, assisted living or memory care facilities, adult foster care and nursing homes.
The state of Alabama doesn't have an assisted living waiver. However, Home and Community-Based Waiver Services are available to eligible Medicaid recipients who require care at home. (They are community based, and the patient cannot reside in a facility.) Once approved, patients can keep the coverage if they remain within the set income and resources limits.
Which Medicaid Waiver in Alabama Will Cover Memory Care?
There are seven different waivers in Alabama. The largest is the  Elderly and Disabled Waiver (E&D Waiver) which is a provision under Alabama Medicaid that allows eligible seniors to receive care customized to their needs. It pays for assisted living services for Medicaid beneficiaries who would otherwise have to live in a nursing home—including those with dementia or Alzheimer's disease.
First, these patients must be medically approved by the Department of Senior Services—social workers will examine their living conditions, interview them and their families, and review their medical records. If the medical condition is eligible, the application will be sent to Medicaid for financial assistance. 
The program isn't diagnosis-specific, and the coverage can't be transferred to nursing homes. If a patient chooses home care, Medicaid will pay for the services after they receive approval for the waiver program. These seniors can use the benefits as they or their caregivers see fit.
Does Medicare Cover Long-term Memory Care?
Medicare pays for some services  at various stages of dementia care. These include cognitive assessments, home safety evaluations, care planning and hospital stay. Medicare Part D also helps pay for prescription medications for dementia.
In the early stages of dementia, Medicare pays for up to 35 hours a week of home health care for homebound seniors. Meanwhile, you can use Medicaid to help pay for in-home care or adult day centers.
In the later stages of dementia, Medicare pays to some degree for the first 100 days in a nursing home. Medicare usually covers the first 20 days. Days 21 -100 often carry out of pocket co-pays. Coverage approval and co-pay amounts depend on the Medicare program the patient is enrolled in.
After 100 days, you can use Medicaid, your personal resources or a combination of the two to cover nursing home care. Medicare also pays for hospice, covering the medical and personal care, prescription drugs and counseling for patients and their families.
Other waiver programs are diagnosis-specific (for example, mental disability) or service-specific (for example, technology assistance). But if the patient also has Alzheimer's or dementia, the services are still available.
What Other Possible Pay Sources Can I Use for Memory Care?
Besides Medicare and Medicaid, you can look into Alabama's Personal Choices Program and Medicaid's Program of All-Inclusive Care for the Elderly (PACE). People eligible for Social Security Income (SSI) may apply for the Optional State Supplement (OSS) to help pay for memory care. The Personal Choices Program offers more flexibility than the E&D Waiver, while the PACE program focuses on community-based care.
Veterans can explore resources offered by the Veterans Affairs Department (VA).  Note that there's a difference between being in military services versus being a veteran. You're in military service if you were sworn in and a veteran if you have been active or mobilized during wartime (even if you didn't go to the front line.)
In Alabama, a couple of VA-run nursing homes offer memory care. There's a long waiting list, and most veterans end up in private sector facilities. However, they can still use their VA insurance to cover some memory care services. 
Additionally, you may purchase long-term care insurance, which sends you a payment based on the number of days spent in a nursing home. You can also tap into other disability resources (e.g., insurance programs from previous employers) or draw on social security or Medicare early.
Let's Talk Openly About Dementia Care
There are many ways to get help if you or a loved one struggles with dementia. Patients and their families need to stay in tune with their conditions to ensure that they can get the care they need without imposing an undue burden on caregivers.
Families of those who are elderly should pay attention to their loved ones. If you notice that something is off (e.g., something slipping their memory,) seek help from a medical professional right away. Sometimes, the condition could be caused by something as simple as a side effect of a new medication. If the diagnosis turns out to be Alzheimer's or another type of dementia, you will have more time to get financially and emotionally prepared.
Caring for a dementia patient is a team effort. It requires a lot to take care of a dementia patient, and caregivers can get exhausted if they don't have the chance to recover. Apply for assistance sooner rather than later to ensure that you can get the break you need when you need it. Avoiding burnout will allow you to take care of your loved one for longer.
Make a decision that's best for the patient's safety and your well-being. Memory care facilities provide a safe and structured environment with set routines to lower stress for people with Alzheimer's or other dementia and slow down the progression of the symptoms.
Should there come a time when home care won't be in the best interest of the patient's safety and your well-being, it's important to know about support available. Memory care facilities provide a safe and structured environment with set routines to lower stress for people with Alzheimer's or other dementia and slow down the progression of the symptoms.
Finding Memory Care Facilities that Accept Medicaid Near Me
Rehab Select offers memory care in facilities throughout Alabama. We employ therapists and clinicians to provide the best care for Alzheimer's and dementia patients. Our structured schedule and innovative programming support residents' emotional, menta, and physical well-being while slowing down the disease's progression.
Schedule a tour to see how we can help support you and your loved one.