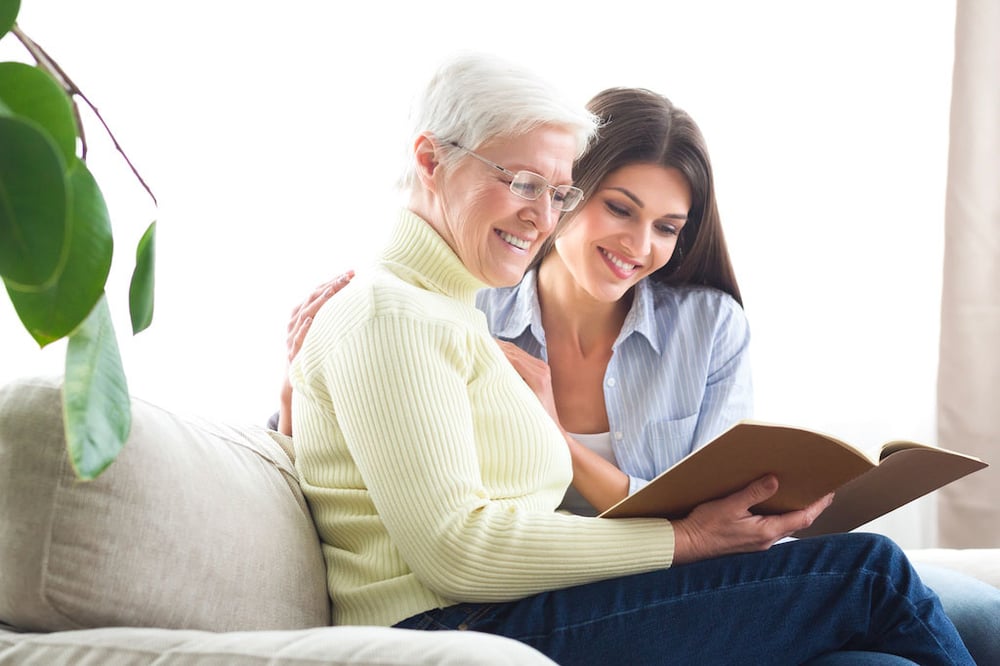 Living with Alzheimer's or dementia is challenging, and caring for a loved one struggling with these conditions can be stressful. But you don't have to do this alone.
Download our ebook to learn the most important factors when considering memory care services for your loved one with Alzheimer's or dementia.
Professional care can help relieve the burden on caregivers and improve the quality of life for patients. Assisted living and memory care (also called Alzheimer's special care units or dementia care) is for patients who prefer a communal living environment or require more care than can be provided at home.
Read on to learn more about what memory care is, what it entails and what to look for when selecting a memory care facility for yourself or a loved one.
What Is Memory Care?
Memory care is a specialized type of care for people living with Alzheimer's or another type of dementia or a brain injury. Besides standalone memory care facilities, many assisted living facilities, continuing care retirement communities and nursing homes offer memory care neighborhoods for dementia patients. 
These assisted living and memory care communities provide a secure environment where residents can take part in programs and activities to strengthen their cognitive abilities. Meanwhile, staff trained to provide care for seniors struggling with memory loss can monitor their health closely.
Staff in memory care facilities have expertise in handling the many challenges associated with Alzheimer's disease or dementia, such as impaired memory and cognitive judgment. Also, they are trained to work with patients who often struggle with mood swings, disorientation and even delirium.
Unlike regular assisted living where residents manage their own time, staff in memory care units closely monitor patients' day to ensure that they get to meals, attend activities and move through the day according to their schedules. Games (e.g., bingo, checkers) to enhance fine motor skills
What Are the Goals of Alzheimer's Memory Care?
Memory care provides a safe and structured environment with set routines to address the specific challenges faced by Alzheimer's patients and lower the stress associated with day-to-day activities.
Memory care has three primary goals:
Improve residents' quality of life
Assure personal safety
Help manage challenges associated with memory deterioration
What Does Alzheimer's Memory Care Entail?
Memory care involves long-term, intensive residential care. The around-the-clock assistance is provided by specialized staff and supported by memory-enhancing activities and therapies to help delay further cognitive decline while addressing patients' emotional and behavioral needs. These activities may include:
Art therapy to encourage self-expression
Gentle exercises that promote balance and muscle strength
Music therapy to improve mood
Crafting (e.g., knitting, coloring) that provides sensory stimulation
Mental health therapy for depression or anxiety
Games (e.g., bingo, checkers) to enhance fine motor skills
Staff in a memory care facility is also trained to provide a holistic assessment of the patient's condition, aid with care planning, ensure adequate food and fluid consumption, offer pain management and encourage social engagement. 
Alzheimer's memory care also involves meal preparation, housekeeping and daily living assistance (e.g., bathing, dressing and toileting). The environment is designed to support independence while promoting safety. The staff also helps keep track of the residents' medication and health needs.
When Should You Consider Alzheimer's Memory Care?
As Alzheimer's disease progresses, a patient will eventually need more care than a caregiver can provide at home. Memory care should be explored when an individual demonstrates confusion in their daily life; neglects their personal care; shows signs of agitation, aggression, or violence; suffers from social isolation; or faces safety risk, such as falls or other injuries in their home environment or potential to wander and become lost.
Memory care may also be necessary if supporting the patient is taking a toll on the caregiver. It's time to consider memory care if the individual's needs go beyond the caregiver's physical ability, create excessive stress and irritability or cause the caregiver to neglect work responsibilities, their families or self-care.
Making the decision to move into a long-term care facility to receive memory care may be very difficult. Even when you plan ahead, the experience can be stressful for both the patient and their loved ones. Seek out facilities that offer family support and programs to aid the transition.
Finding a Memory Care Unit Near Me
Choose a memory care facility that can provide the appropriate level of care, a safe physical environment and emotional support for both patients and their loved ones.
The memory care unit should have experienced staff trained in working specifically with patients with memory issues. It should also help coordinate collaboration among therapists, doctors and family to ensure the highest quality of care.
When you evaluate a memory care facility, consider these key factors:
State-of-the-art safety features, such as enclosed courtyards and 24-hour monitoring
Specially trained staff, on-site therapy and behavior management programs
Quality services to help patients take care of day-to-day activities
Dining support, including dementia-friendly menus and personalized assistance
A welcoming environment that makes the patient feels relaxed and at home
An easy-to-navigate floor plan to prevent the patient from getting lost or frustrated
A structured schedule and innovative programming offering emotional, mental and physical care
Engaging activities to help patients maintain their abilities and current skills 
Family support and educational programs to keep loved ones in the loop
Patients with Alzheimer's disease require long-term specialized memory care. Here at Rehab Select, we offer access to experienced and highly trained therapists and clinicians through our Alzheimer's Care services.
If you're looking for memory care facilities in Alabama, we invite you to take a tour of our locations at Alabaster, Talladega, Montgomery, Albertville and Guntersville. 
Schedule a tour to learn more about our facilities and our long-term Alzheimer's Memory Care services.