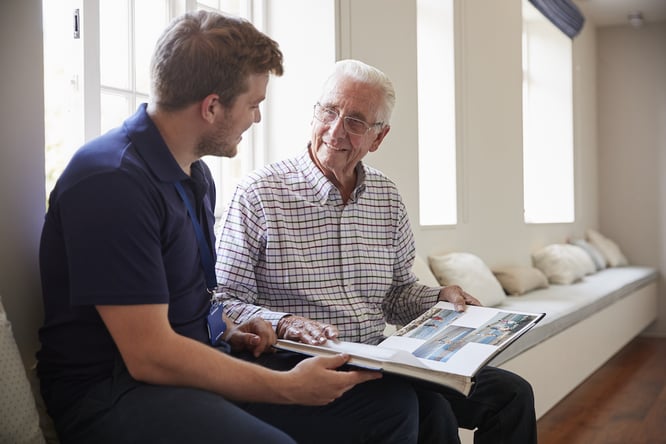 According to the Alzheimer's Association, at least 15 million family members care for a loved one with Alzheimer's disease or another kind of dementia. These unpaid individuals provide most memory care in the United States, at times jeopardizing their careers, finances, and mental and physical well-being in the process. 
At a certain point, 24-hour professional care often becomes necessary as a matter of safety and to support the best interests of patients and families. At Rehab Select, our team of clinical professionals supports many individuals and their families in recognizing memory care options for those with Alzheimer's and other dementias.
Download our ebook to learn the most important factors when considering memory care services for your loved one with Alzheimer's or dementia.
What Is a Memory Care Facility? 
Memory care is a round-the-clock care solution specifically designed to support the needs of those with Alzheimer's and dementia conditions. The facilities help people with cognitive conditions with activities of daily living (ADLs), such as cleaning, food, dressing and toileting. If you're looking for the best dementia care near me, then the first step is to identify the care level needed, from a multidimensional perspective that considers medical, safety, psychological and social needs.
Why Is Memory Care Assisted Living Important?
Memory care units offer a high level of monitoring and security. As such, they are often best suited for individuals experiencing episodes of medical or safety needs such as:
Wandering
Paranoia 
Sun-downing or sleeplessness
Confusion
Agitation
Memory care facilities can address these needs by offering services such as the following.
24/7 Support
Degenerative illnesses such as Alzheimer's and other dementias result in the need for full-time monitoring and support in late stages. When a patient's condition deteriorates, the amount of time and effort needed to care for them increases.
Facilities that provide memory care assisted living often emphasize keeping a low staff-to-patient ratio. This staffing level helps ensure that communities provide round-the-clock supervision, security and medical support through on-call nurses and caretakers.
Individualized Care
Memory care home solutions rely on personnel who know the ins and outs of dementia or Alzheimer's disease issues and how the illness manifests in each person. Alzheimer's care facilities offer individualized treatment programs that enable participants to enjoy more independence and take fewer trips to the hospital.
Customized Programming
Just as your loved one's care may be adapted to unique requirements, so can their daily activities. With specialized programming, individuals who might otherwise be bored become more active. Professionals who work with individuals who have Alzheimer's or dementia recognize the types of activities that can navigate limitations and foster greatest engagement.
Socialization
According to the National Center for Biotechnology Information (NCBI), about 52% of dementia patients feel lonely and experience depression or anxiety. Fortunately, residents at a memory care unit benefit from everyday interactions with peers, caregivers, and other staff, thanks to community living.
Highly Trained Caregivers
In addition to skilled workers and nurses, memory care homes offer professional connections to other healthcare services and experts. These facilities can recommend and provide transport to nearby clinics for auxiliary treatments such as podiatry or dentistry. The communities provide means to help people access medical care conveniently.
Improved Diet and Wellness
Getting adequate nutrition to keep healthy might be difficult for those with Alzheimer's disease or dementia. Resident programs ensure everyone receives the help they need at feeding times and that nutrition is complete. What's more, diet improvement can sometimes even result in need for less medication, a reduction in risk of falls and injuries and improved wellness.
Regaining Family Roles
Families may enjoy the ease of simply living, as usual, knowing their loved one is in capable hands. When visiting a loved one, you don't have to worry about providing care, so you can instead focus on having fun and enjoying quality time around each other.
What Constitutes the Best Memory Care?
If you're in Alabama, you might be wondering, which is the best dementia care near me? As you begin looking for nearby facilities, keep a few things in mind to make the ideal choice. 
Rehab Select offers the following standard features:
Safe and pleasant interiors and surroundings
On-site licensed nurses and therapists
On-site licensed nurses and therapists
A beneficial and exciting calendar of events
Diverse menus and eating experiences that encourage dignity and independence
A well-kept and well-lit place
Availability of a wide range of daily activities catering to those with memory conditions 
Access to all healthcare levels
Around-the-clock security 
Memory Care Nursing Homes vs Memory Care Home Solutions
Although they share many similarities, a nursing home and a memory care center are two different things. The former is available to anyone suffering from a medical condition that makes staying at home difficult. However, the latter focuses only on individuals with Alzheimer's disease and other kinds of dementia.
A memory care nursing home is more formal and hospital-like, while a memory care facility is more relaxed and a home-like setting. Other aspects set these facilities apart, such as:
Staff Training
Both nursing homes and memory care facilities employ many nurses and nursing assistants. However, staff at a memory care facility are adequately trained to deal with the issues that persons with dementia have, such as swallowing problems, wandering, depression and anxiety.
Specialized Activities
Some activities, such as music, painting, yoga, and acupuncture treatment, are particularly well-suited for those with cognitive impairment. Memory care homes, unlike memory care nursing homes, concentrate on activities that are specifically designed to meet the special demands of those with dementia.
Dining
Nursing home facilities often provide three meals per day in a social environment. For people with dementia, an excellent Alzheimer's care facility offers more than just nutritious meals, providing a valuable source of companionship at the dinner table while providing assistance when necessary.
The Environment
Residents of memory care facilities may also enjoy a secure and comfortable atmosphere specifically tailored to their unique requirements and safety concerns. An assisted living community may not provide these additional safeguards.
Contact Rehab Select Today to Schedule a Facility Tour 
Adults with Alzheimer's or dementia need a safe, regulated and predictable environment. The right setting lessens risk of injury and accidents and can improve overall well-being. If you're in Alabama, don't wonder "how do I locate the best memory care facilities near me for my loved one?" Rehab Select offers the best care in regional care. Call today to learn more and schedule a tour of our facilities.