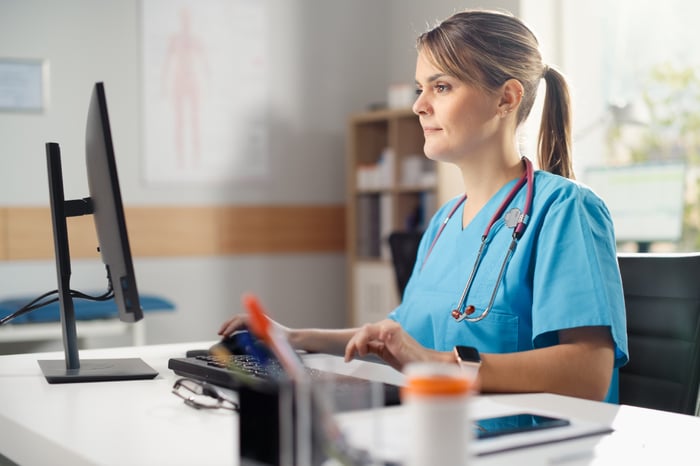 Nurse case managers who handle work-related injury claims face a lot of competition. How can you stand out and keep adjusters returning to your services?
A high success rate is essential, but that's not all. Claims carriers want to feel comfortable with the nurse case managers they work with. They seek professionals with good attitudes and track records of advocating for their patients, getting them back to work quickly, and lowering medical expenses.
So what do you need to know to establish good working relationships with insurance carriers? Here are some insights nurse case managers can use to deliver the kind of work rehabilitation that helps patients — and pleases insurance adjustors.
Tips for Working with Claims Carriers on Work Rehabilitation
1.

Remain in Constant Contact
File reports immediately after patient appointments and stay on top of all updates. Keep adjusters in the loop even if there isn't a new development. The more quickly you can share information with the carrier, the better — even if it's a brief call or email to tell them you haven't received any updates from the rehab facility.
Be an effective communication liaison between the claims carriers and the rehab facility to build trust with adjusters. Don't worry about over-communicating, especially after appointments or rehab staffing meetings where a patient's care plan has changed.
Also, alert the insurance company immediately if you sense trouble. For example, if you suspect a patient may be disgruntled about their care team or non-compliant with the treatment plan.
2. Be Neutral and Objective in Communications
Adjusters and insurance companies are wary of legal issues — if you offer medical advice to a patient (even unintentionally), the consequences could create a backlash that impacts the carrier. Simply put, carriers prefer nurse case managers who are cautious about what they say to their patients.
Besides reiterating a physician's treatment plan without adding your opinions, avoid discussing financial and billing issues with the patient. Refer all money questions to the adjuster to ensure patients get the most accurate and timely information.
3. Help to Keep Physicians on Track
Claim carriers rely on nurse case managers to communicate when the doctor expects maximum medical improvement (MMI). The information can help the adjuster set reserves on their files and estimate when the patient can return to work.
However, not all physicians are used to considering workman's comp guidelines during their consultations, so you may have to remind them to stay focused only on treatment pertaining to the case. Ensuring that the doctor doesn't spend time treating previous health issues during appointments for work-related injuries helps the insurance company control medical costs and align the scope of care to streamline claim processing. You'll also need to get a permanent partial impairment (PPI) rating from the doctor — even if it's zero percent, you must still record it as such.
4.

Report When the Patient Returns to Light Duty
Many employers make accommodations for injured workers to return to work and perform light duty during the claim (e.g., doing seated work instead of standing at a production line.) A nurse case manager should follow through with these patients after they return to work and report the progress to claim carriers until they reach MMI.
5.

Consider the Patient's Preferences and Circumstances
Not every patient will benefit from the same treatment approach. The wrong fit may prolong the treatment and increase costs. Plus, the longer a patient stays out of work, the less likely they're to return.
Ensure the patient isn't averse to the facility's philosophy and environment. They may not follow their treatment plan if a facility isn't a good fit. They may opt for home physical therapy, which is often less effective than inpatient workers comp rehabilitation. The lack of progress may even affect the rest of the claim.
Family members are often critical in facilitating the recovery process and the transition to home care. As such, you should consider the facility's location — is it close to the patient's home and easy for family members to visit? Also, does it support families and involve them in the treatment process?
6.

Recommend the Right Rehab Facility
Choosing the right rehab facility is essential for achieving successful outcomes, and insurance companies count on nurse case managers to make the best decisions. A facility should provide high-quality physical therapy that accepts workers comp, have the capability to handle the patient's work-related injuries, and be easy to work with.
The facility should have a well-defined communication plan to update you about the treatment plan and the patient's progress. For example, will staff send you weekly reports so you can relay the latest information to the adjuster?
A reputable facility should also be honest and objective when reporting a patient's progress. When they have plateaued and are qualified for safe discharge, the care team should inform the nurse case manager and help arrange the transition to home care.
Find the Right Inpatient Rehab Facility for Work Rehabilitation
One of the best ways to coordinate care effectively, set a claim up for success, and build trust with carriers is by selecting a reputable rehab facility offering high-quality physical therapy that accepts workers comp.
At Rehab Select, we understand the process and challenges of coordinating care with claim carriers and offer services at five Alabama locations. We provide the right support, such as weekly reports and private meeting space for you to have 1:1 conversations with your patients so you can have meaningful and constructive communications with adjusters.
Learn more about our Alabama-based work rehabilitation programs and get in touch to see how we can help your patients achieve the best treatment outcomes.