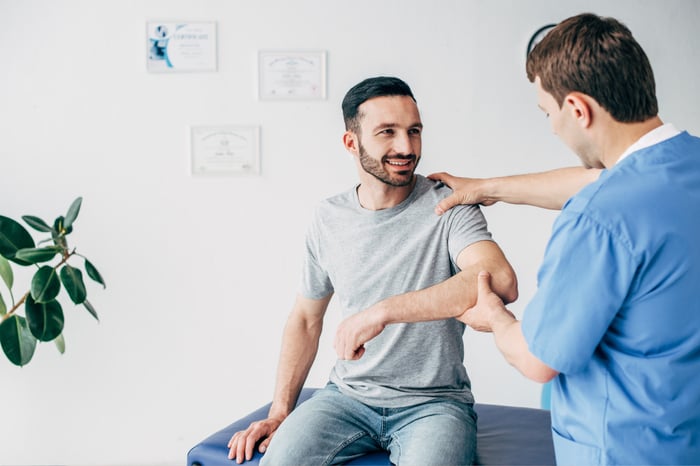 Your relationship with the rehab facility that is treating your patient plays a critical role in making workers' comp rehabilitation successful. Knowing how to make the most of this relationship will benefit both the patient and you by accelerating recovery, helping patients return to work faster, and lowering the overall cost of treatment.
Rehab Select has partnered with many experienced nurse case managers to support workers' comp rehabilitation. To help your patients realize better rehab outcomes and reap the benefits of workers' compensation physical therapy, we're sharing our most valuable from-the-trenches insights.
A Nurse Case Manager's Guide to

Workers' Comp Rehabilitation
To best facilitate the patient's recovery, a nurse case manager must cultivate a strong working relationship with a rehab facility. Here's how:
7 Tips for Finding Work-Related

Injury

Rehab Swiftly
Timely care starts with the patient referral and admission process and continues through therapy and the transition to home care. Here's how you can facilitate every step in the vocational rehab journey to get the best care for your patients:
1.

Develop a Personal Relationship with the Staff
You should have a roster of facilitates you can call and place your patients within hours, so it's critical to build relationships with them ahead of time. Do your homework, learn about the organization, and call them to introduce yourself.
Find out who your point of contact is and get to know the group of professionals you'll be coordinating with at the facility. Connect with everyone, from the person doing the paperwork to the therapist administering the physical therapy, to align them with your goals. Also, visit the facility periodically — nothing beats having boots on the ground.
2. Be Present for All Meetings
A nurse case manager's role is vital to making rehab successful. Because of the multiple and diverse stakeholders involved in the process, good communication and coordination with the rehab facility are essential for treating workers' comp injuries. For example, you should get frequent updates and timely notes about the treatment progress from the facility so you can report to the adjuster.
Be proactive about understanding the treatment plan and participating in team staffing meetings whenever possible. Make yourself an asset to the rehab team by being available and helpful. When issues arise, discuss them promptly so all parties can work together to deliver a clear and swift resolution.
3.

Facilitate a Seamless Referral Progress
Once a patient is ready for admission, send the rehab facility all the information they need (e.g., billing, demographics, etc.) to make it easy for your contact to do their job. You may need to talk to the physician, social worker, or professionals administering workers' compensation physical therapy to make sure everyone is on the same page.
You should have a communication plan to provide facility employees with the information they need to start treatment immediately. Since you're also the liaison between all parties, including the patient's family, you must ensure everyone is available for discussion whenever there's a problem or concern.
4. Identify a Dedicated Point of Contact
Who do you call when you need to place a patient or have a question? Identify a single point of contact at the facility to minimize frustrating phone tags and delays — especially if the facility has multiple locations. Share your concerns or issues with the primary contact person — they should be there to facilitate resolution and provide you with updates.
5.

Collaborate with Facility Staff
When interacting with your patients and their families, you may identify problems the rehab staff needs to be made aware of. Take a collaborative approach to work with the various employees at the facility and address these issues promptly.
A strong working relationship with the facility staff also helps ensure that you get updates on patient status changes (e.g., anticipated length of stay) as they happen. Seamless communication can help you provide timely and accurate reports to the adjuster and employer.
6.

Coordinate Patient Discharge
Work with your partners in the rehab facility to coordinate patient care upon discharge, such as outpatient therapy orders and durable medical equipment (DME) the patient needs at home. You should know whom to contact at the rehab facility to get the necessary information to facilitate the patient's continual care.
7.

Establish Clear Expectations
Communicate your expectations to the rehab facility from the start. For example, be clear about when you'd expect to receive admission notes, when you'd attend the weekly staffing meeting, how often you'd get updates on a patient's progress, and under what circumstances should the facility contact you to report a change in a patient's status.
Review the treatment plan and play an active role in facilitating the rehab process. Also, ensure the doctor, therapist, patient, and other parties involved focus on addressing issues related to the job injury to avoid problems and delays with claim processing.
Get Help with

Workers' Comp Rehabilitation

in Alabama
Juggling all your responsibilities and coordinating the many stakeholders involved in worker's comp rehab can be complex and challenging. Partnering with a reputable facility experienced in workers' compensation physical therapy can help you succeed as a nurse case manager.
Our teams at Rehab Select have extensive experience collaborating with nurse case managers to navigate workers' comp injuries in Alabama. We provide a dedicated point of contact, a space to meet with patients privately, and weekly reports on patient progress so you'll have everything you need to coordinate claims and deliver the best results.
To see how Rehab Select ensures the highest standards for our worker's comp rehabilitation programs at our five Alabama locations, contact us or schedule a time to meet.