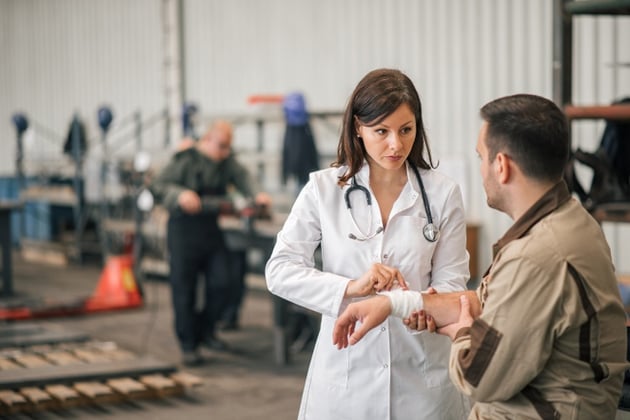 Nurse case managers play a critical role in optimizing work injury treatment outcomes, shortening the time it takes for a patient to return to work while lowering medical expenses. The proof is in the pudding: Many insurance companies work with nurse case managers to lower costs, improve outcomes, and increase patient satisfaction.
Case managers help injured employees navigate the healthcare system and ensure effective coordination among the employer, insurance adjuster, and rehab care team — from assessing the injury and planning the rehab to delivering workers' comp occupational therapy and evaluating the outcomes.
Let's look at the key characteristics of effective case management and how a nurse case manager can ensure high-quality workers' compensation rehabilitation for patients.
Hallmarks of a High-Quality Workers' Compensation Program
First and foremost, a workers' comp program should help patients return home quickly to lower the costs of administering care. It should transition them to a lower level of care as fast as possible without compromising the outcomes.
When patients come to a facility unable to walk or perform any weight-bearing activities, they will need help to transfer weight, stand, and walk for short distances. Then, they may transition to a home-based program to continue the healing process. When patients are ready to go home, a good workers' comp program will work with the nurse case manager to ensure that the environment is set up to support recovery.
An effective rehab program should also include workers' comp occupational therapy to help patients improve physical functions and return to work as soon as possible. Additionally, timely and good communication is essential for optimizing cost-efficiency and treatment outcomes.
Questions to Ask a Rehab Facility about

Work Injury Treatment
A vocational rehab program plays a critical role in a patient's recovery process. Partnering with the right rehab facilities can substantially impact your clients' treatment outcomes. Here are some questions to ask when making your selection:
How many days a week and hours per day of therapy do you provide?
Every patient is different, and there's no one-size-fits-all answer to how much therapy is appropriate. But a rehab facility should have a rigorous program to deliver the required frequency. (Here at Rehab Select, our patients receive up to six days a week and up to three hours a day of physician-led physical therapy.)
What is your communication process?
You should have a direct line of communication with a single point of contact at the facility. Can you pick up the phone and get a patient admitted quickly without jumping through hoops?
How soon will you see the patient upon admission?
The sooner the facility can evaluate a patient and get them started on the therapy, the better the treatment outcome. But of course, it isn't realistic to expect personnel to be available at the drop of a hat during off hours.
Do you offer physical therapy that accepts workers' comp?
Physical and occupational therapy is often central to recovery, so it's important to ensure that a facility offers physical therapy that accepts workers' comp.
Red Flags to Avoid When Choosing a

Work Injury Treatment

Facility
Not all workers' comp rehab facilities are created equal. If a facility fails to respond to your phone calls or emails and make appointments for your patients promptly, think twice before working with it.
After all, you're probably covering 30 to 40 patients at any given moment — who has time to make numerous calls to track down everyone?
Additionally, proactive and regular reporting is a hallmark of excellent communication. For example, we send nurse case managers weekly clinical reports to let them know how their patients are progressing so they can coordinate with employers, claim adjusters, and care providers.
Good communication between a nurse case manager and their patient is also critical to the recovery journey and addressing the individual's needs. That's why we offer dedicated spaces in all our facilities for nurse case managers to meet with their patients and track their recovery progress.
Another red flag to avoid is a cookie-cutter approach to work injury treatment. The care team should start with an assessment to evaluate each patient's needs and design a personalized program to meet their recovery goals. Then, it should monitor progress and adjust the program as needed.
Rehab Select: Your Best Partner in Workers' Comp Case Management
A successful nurse case manager has a proven track record and built trust with claim adjusters. They have a proven, efficient method to facilitate workflows and transition patients to a lower-cost care model, so they don't have to get approval to send patients to a facility every time.
Nurturing this trust isn't easy, but the good news is that you don't have to go it alone. You can build a stellar reputation by partnering with a reputable rehab facility to deliver outstanding treatment outcomes.
At Rehab Select, we have over 12 years of experience supporting nurse case managers with work injury treatment and workers' comp occupational therapy.
We provide nurse case managers with timely clinical reports to demonstrate to adjusters that their patients are receiving what was promised for the money. They can also meet patients in person to check their progress, ensure that they comply with the treatment plan, and raise concerns with us before they turn into costly problems.
Our facilities and workflows are set up to help nurse case managers do their best work — oversee patient care, navigate the insurance claim process, and communicate with providers, adjusters, and employers to maximize the cost-effectiveness of the treatment.
We can help you navigate compensation claims, tailor an effective workers' comp program, plan for an employee's return to work, and provide rigorous, frequent one-on-one physician-led therapy to achieve the best treatment outcomes.
Contact us or schedule a time to see how Rehab Select ensures the highest standards for our workers' comp rehabilitation.