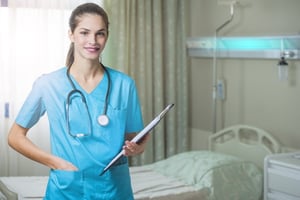 Case managers are being employed in a growing number of work comp injury cases these days, and may be assigned to them by insurance carriers, self-insured employers or third party administrators.
Their greater presence in the claims process has led many who have had little experience with these professionals to become curious about just what their role is in the claims management process. Here we'll provide a general outline of that role.
What Case Managers Do in Work Comp Injury Cases
Case managers assigned to work comp injuries claims are most frequently registered nurses, although some may be licensed practical nurses or physicians. Typically, they will have knowledge of and/or experience in medical management, occupational health, discharge planning and home health care.
Their chief role in the work comp injuries claims process is to help get injured workers back to their jobs as quickly as is medically prudent. General duties performed in pursuit of this goal include coordinating and actively supervising an injured employee's care, with the goal of ensuring that high-quality care is delivered in accordance to the patient's needs and in a cost-effective manner.
Acting as a liaison between the employee, his or her medical team, employers, insurance carriers and other stakeholders involved in the management of a workers' comp claim is also a primary responsibility of case managers.
Things case managers typically do as they fulfill their roles include:
Communicating with an injured employee's healthcare providers.

Keeping payers up-to-date on medical details and progress.

Facilitating approvals from payers for treatment.

Facilitating referrals.

Evaluating care quality and cost efficiency.

Helping the injured employee understand his or her condition and treatment details.

Working with employers to facilitate any necessary job modifications to enable a timely return to work.
How Case Managers Can Benefit the Claims Process
Assigning case managers to work comp injuries cases is an additional expense for insurance carriers and/or employers. However, the return on that investment is typically quite good. Their involvement tends to benefit injured workers by streamlining the process for faster, more complete access to care, improved care quality and better recovery outcomes. Employers, insurance carriers and other stakeholders benefit from improved communication flow, faster returns to work, quicker claims closure and lower overall workers' compensation costs.
In fact, according to an article published by Business Insurance, the involvement of a case manager has been shown to reduce medical and indemnity costs by an average of $6,100 per workers' comp case.
Overall, it seems that involving case managers in work comp injuries cases benefits everyone involved, creating value for the injured employee who receives treatment and care, as well as the employer and/or insurance carrier footing the bill for those services.