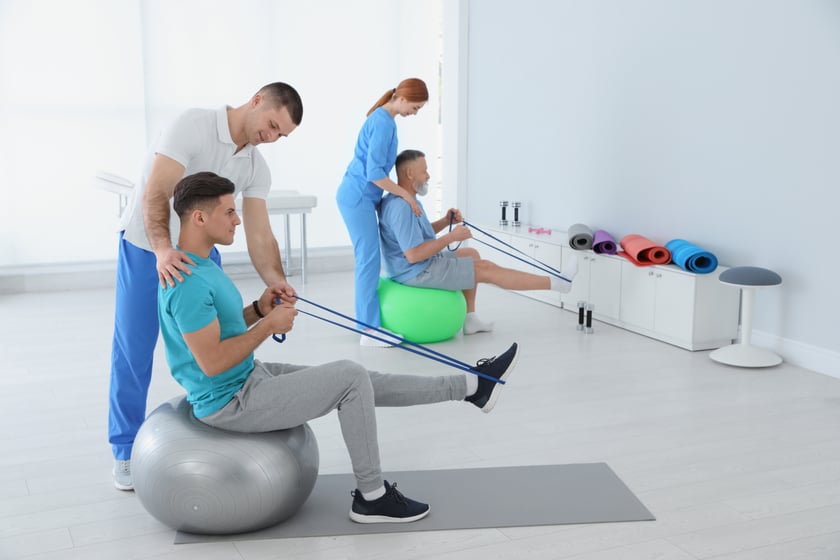 If you experience an illness or injury that affects your mobility, your doctor may recommend physical therapy as part of your orthopedic rehabilitation protocol. Physical therapy is just one aspect of your treatment, and when combined with other therapies, can help you return to your normal life sooner.
Previously, we talked about orthopedic rehabilitation as a whole. In this article, we'll take a closer look at how the physical therapy component of orthopedic rehab works and how it benefits you.
What is Orthopedic Physical Therapy?
Orthopedic physical therapy is a mode of treatment that helps you recover from an illness or injury that affects your musculoskeletal system. Your musculoskeletal system consists of your muscles and bones and all the structures that hold them together, i.e., ligaments, tendons, joints, etc.
The purpose of orthopedic rehabilitation physical therapy is to optimize your body's physical ability, including:
Increased mobility
Reduced swelling and stiffness
Strengthened muscles
Improved balance and stability
Reduced pain
Proper recovery from surgery
Each session of therapy builds on the last to help you gradually feel better and perform your daily activities again.
How Orthopedic Physical Therapy Differs from General Physical Therapy
Orthopedic physical therapy is a sub-specialty of physical therapy. Physical therapists can choose to specialize in orthopedic, geriatric, pediatric, cardiopulmonary, or neurological physical therapy, which all have differing focuses.
An orthopedic physical therapist has advanced training in treating conditions of the musculoskeletal system. They usually have the most in-depth knowledge and offer the most advanced, targeted therapies to help you recover from:
Ligament tears
Bone fractures
Overuse injuries (i.e., carpal tunnel, tennis elbow, etc.)
Arthritis
Knee, hip, elbow, or shoulder pain
Joint replacement
Amputation
Stroke
Orthopedic surgery
Any physical therapist can treat an orthopedic condition, but orthopedic physical therapists have additional training and credentials in the orthopedic niche.
What to Expect During Orthopedic Physical Therapy Sessions
Physical therapy sessions look different for everyone. Your physical therapist works with your care team to design a treatment protocol personalized to your specific condition and how you respond. However, therapists have standard treatment modalities they use for orthopedic conditions.
You can expect to experience one or more of the following physical therapy modalities during your sessions:
Exercise
Exercise typically makes up the bulk of your physical therapy sessions. You may perform a variety of targeted strengthening, cardiovascular, stability, and flexibility exercises to increase your physical capacity. As you get stronger, exercise can help reduce weakness, lessen pain, improve posture, and make basic tasks more manageable.
Orthopedic manual physical therapy
Manual therapy includes hands-on techniques that help mobilize your muscles and joints. Physical therapists often use soft tissue massage, traction, and mobilization exercises to enhance your motor function. They may also incorporate heat and ice for pain and swelling.
Therapeutic technologies
Electrical stimulation, ultrasound, and lasers are common technologies used in physical therapy. Ultrasound uses sound waves to create heat, improving blood flow, and healing.
Electrical stimulation is a painless therapy that helps with nerve function, and lasers use light energy to stimulate tissue repair.
Assistive devices
Your therapist may suggest assistive devices, such as a walker, braces, orthotics, or prosthetics, if you experience physical limitations. He or she can teach you how to use them and incorporate the devices into your sessions.
In addition to these therapies, your therapist performs tests and assessments at the beginning and throughout your treatment to gauge your progress.
A typical outpatient session may last an hour, but several hours may be recommended in more complex situations, especially during an inpatient stay. You can expect to see your therapist for several weeks or more, depending on the severity of your condition, how much you participate, and how well your body responds.
Benefits of Orthopedic Physical Therapy
Physical therapy is one of the best forms of orthopedic rehabilitation for healing and getting back to your life. Orthopedic physical therapy provides a myriad of health benefits.
Some of those benefits include:
Physical therapy is a noninvasive way to help you feel better and get back to the activities you usually perform. The treatment may even help you avoid surgery for a particular injury if you haven't had surgery already.
You may also encounter some secondary benefits of therapy, such as improved memory and cognition. Physical activity is good for the brain, and you can essentially rewire your brain by practicing your motor skills.
Choosing An Orthopedic Physical Therapy Practice
Some of the most crucial factors to take into consideration when choosing where to receive orthopedic rehab might be location and insurance coverage. You may want a place close to home that's covered by your provider.
Once you have a list of providers that meet your criteria, you should also consider the following factors:
Access to providers who specialize in your condition
A facility that offers comprehensive treatment modalities in one location
The environment and friendliness of the staff
Additional qualities to look for in an orthopedic rehabilitation center include up-to-date technologies and positive patient outcomes. Decide which qualities are the most important to you to help narrow down your list, and try to schedule a visit with your top choices to make the final decision.
If you live in Alabama, Rehab Select is a leading choice for orthopedic rehabilitation. With 5 locations throughout the state that offer comprehensive inpatient and outpatient services, we provide you with access to exceptional specialists and comprehensive treatments under one roof. Contact Rehab Select today to schedule a tour and see how our orthopedic rehab program can benefit you.