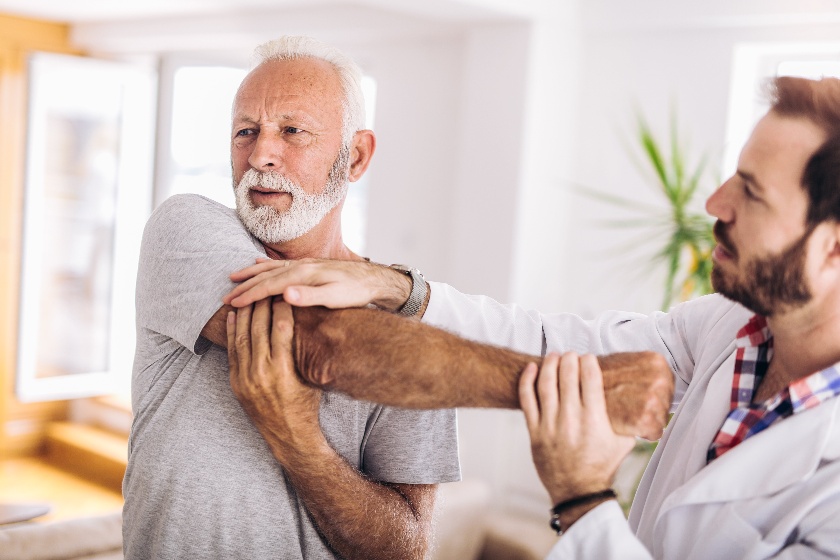 Your healthcare provider may suggest orthopedic rehabilitation as part of your recovery program after surgery, illness, or an acute medical event. If you're wondering what that looks like and what to expect at your appointments, keep reading for the answers to your most frequently asked questions.
Learning more about orthopedic rehabilitation helps you to wrap your mind around what you're about to experience and the big-picture strategy behind how it helps.
What is Orthopedic Rehabilitation?
Orthopedic rehabilitation is a therapeutic approach to recovery, the purpose of which is to correct musculoskeletal limitations and alleviate pain from trauma, illness, or surgery. The musculoskeletal system consists of muscles, bones, joints, ligaments, tendons, cartilage so that orthopedic rehab can address any of those structures.
Examples of the types of orthopedic injuries and conditions that may require rehab include:
Carpal tunnel
Arthritis
Osteoporosis
ACL and meniscus tears
Broken bones
Hip, knee, or shoulder replacement
Stroke
Sciatica
Amputation
Rehabilitation helps you regain the use of your limbs and incorporate assistive devices or learn new ways to circumvent any lingering limitations.
What Does An Orthopedic Rehabilitation Program Look Like?
Orthopedic rehabilitation looks different for everyone based on your condition, goals, and abilities. Your healthcare team creates a personalized treatment program and adjusts it according to your recovery along the way. Although it differs for everyone, rehab does follow a natural progression to maximize your recovery.
First, the extent of your illness or injury determines whether rehabilitation would be best on an outpatient basis or through a post-acute inpatient program. Inpatient rehab is typically recommended in more complex situations, while outpatient rehab may be recommended for minor injuries.
For example, someone recovering from a surgical amputation due to diabetes complications may be best served through a post-acute inpatient program while someone with a shoulder fracture may easily be treated through outpatient visits. The orthopedic rehabilitation specialists at Rehab Select can help you and your caregivers make the best decision for recovery.
Whether you're treated on an inpatient or outpatient basis, therapy at Rehab Select involves the gradual strengthening of the body and mind using the latest, clinically-effective approaches. Therapy may be more intensive for those with severe impairments who are in an inpatient setting than those with minor concerns on an outpatient basis.
The final stage of orthopedic rehabilitation involves an effective transition of care. Your healthcare team provides the tools and resources you need to make the smoothest transition home or to a long-term care facility. That may involve making modifications to your home for safety, arranging caretaking and transportation responsibilities, follow-up requirements, and self-management techniques for your condition.
What Types of Therapy Can I Expect During Orthopedic Rehabilitation?
A multidisciplinary team of specialists gathers to arrange your orthopedic rehabilitation program. The team may consist of physical therapists, occupational therapists, nurses, doctors, and other specialists whose treatments complement and build upon one another for the best results.
Physical Therapy
Physical therapists help restore your strength, flexibility, mobility, and overall function in your body. They use manual therapies and have you perform stretches, exercises, and other techniques in gradual progression to help optimize your physical abilities.
Occupational Therapy
Occupational therapists help you regain the ability to perform your everyday activities, such as bathing, cooking, driving, and working. They can also provide you with adaptive tools to help you perform activities you have trouble with more safely or easily. You may work on any of the following during your occupational therapy sessions:
Fine motor skills and dexterity
Hand-eye coordination
Movement adaptation
Balance training
Hand Therapy
The hands are such vital components of the body that we use for so many of our daily activities. Hand therapy is a subspecialty of occupational therapy explicitly dedicated to restoring the use of your arms and hands. A hand therapist gives you the techniques, information, and tools to help you use your hands efficiently and teach you how to work around deficiencies.
Doctors
Your orthopedic rehabilitation team may include doctors, physiatrists, and surgeons involved in your care, such as your primary care provider and your orthopedic surgeon. These physicians may get involved in your care to oversee the status of your recovery.
Other Specialists
Additional specialists may also be involved in your care, such as therapists, nutritionists, orthopedic surgery specialists, vocational rehabilitation specialists, and other experts specific to your case.
For example, if inflammation impacts your motor skills, a nutritionist can help you eat an anti-inflammatory diet, and a vocational rehab specialist can help you to participate in your hobbies with less pain.
What Are the Benefits of Orthopedic Rehabilitation?
The purpose of orthopedic rehab is to help you regain function in your body as quickly and effectively as possible. One of the major benefits of rehab is returning to what you love doing.
While re-establishing your ability to perform your favorite activities might be your top goal, orthopedic rehabilitation also offers many additional advantages:
Early, intensive rehabilitation ensures a better outcome. That's why Rehab Select is dedicated to helping you achieve your highest functional potential with responsive therapy, often the same day as you have surgery or arrive at the facility.
Occupational rehabilitation gives you the most comprehensive care for your ailment. Treatments target your condition from all angles, so you feel more like yourself as soon as possible.
If you're looking for an orthopedic rehab facility or you've experienced a medical event that might benefit from orthopedic rehab, contact Rehab Select today to set up an appointment to discuss your options. Our state-of-the-art facilities and rigorous, adaptive approach to therapy help you heal and move on from your illness or injury.