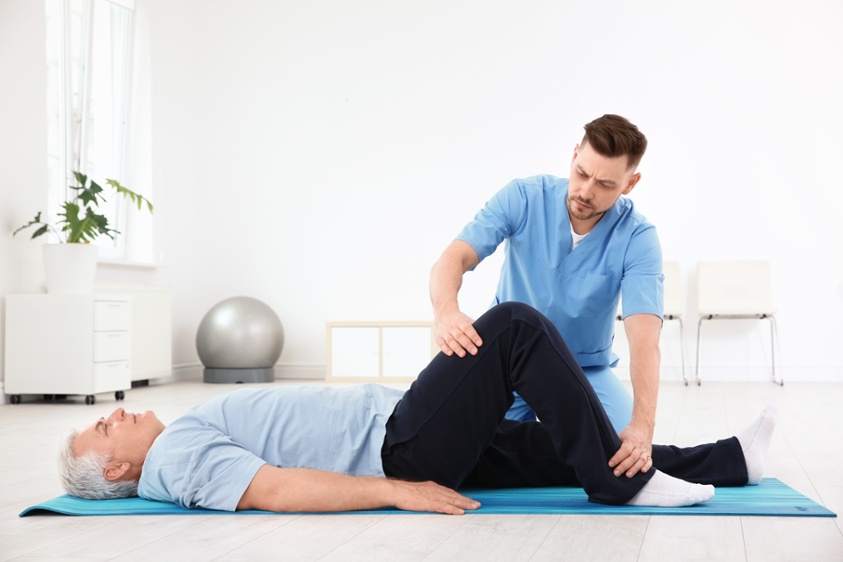 You or a loved one are faced with choosing an orthopedic rehabilitation center to recover from an injury or illness and aren't sure where to start. The best place to begin is to do some background research on facilities in your area and schedule a visit at a few of your favorite places if you have time before discharge to do so.

Before your visit, it's helpful to prepare a list of pertinent questions and compile information about the facilities to help you make an informed decision. Below are seven critical aspects to pay attention to when determining which facility is right for you.
1. Quality of Care
The first thing you probably want to know is how well your loved one will be cared for. You want to ensure they're comfortable and receive the most effective, compassionate care available. Observation is one of the best ways to assess the quality of care, but that doesn't always give you the whole picture either.
During your visit, you can ask some revealing questions to help you gauge the quality of care, such as:
How many days and hours per week do you dedicate to therapy?
What supplemental activities do you provide for patients when they're not in therapy?
How do you continually assess and manage the quality of care at your facility?
What do you do when there's a medical emergency during off-hours?
Is there a physician available 24 hours a day?
What is the nursing staff-to-patient ratio?
As you look around and talk to staff, you should get a sense of the environment in the facility. The level of friendliness, warmth, and helpfulness of the staff should give you a feel for how patients are treated. An overall environment that's well-maintained and inviting suggests attentive, conscientious leadership.
2. Insurance Coverage
Once you've determined the level of care provided by the rehab centers on your list, you can narrow your search by insurance coverage. The cost for even a short-term stay at a rehabilitation facility can be exhaustive for an average household budget, so insurance coverage is probably a priority.
The best place to start is to call your insurance company and ask about coverage. From your conversation, you can get an idea of your deductible and copay responsibilities. Many insurance companies require pre-authorization for a stay at a rehab center as well, so make sure to remember to get that process started as soon as you make your decision.
3. Technologically-Advanced Techniques
If you walk into a rehab center and notice updated computers and state-of-the-art equipment, you can surmise that the facility stays abreast of medical advancements and likely has some of the most knowledgeable experts behind it. This means their patients get the most up-to-date care as well. Clinically-effective practices and state-of-the-art equipment tend to be the best approach to support recovery.
You may be able to tell how well the facility incorporates advancements just by looking around. Still, you can also ask more detailed questions about the facility's technologies and how they stay on top of advancements in their field.
4. Highly Specialized Services
When you have a complex orthopedic-specific condition, you'd likely rather get treatment from a place that specializes in orthopedic rehabilitation than a general practitioner. The same holds for the facility you choose for rehabilitation. Your rehab center should offer condition-specific care from a highly trained, multidisciplinary team. You'll get more targeted care for post-stroke rehab at a stroke-specific treatment center, for example, than a general rehab facility.
While specialized, your care should also be comprehensive. Ideally, your chosen facility should offer a range of therapeutic treatments and access to specialists specific to your needs.
At Rehab Select, for example, you get access to a well-rounded team of orthopedic specialists consisting of:
Physical therapists
Occupational therapists
Physiatrists
Psychologists
Each has specialized experience treating your specific condition, so they understand the big picture and subtle nuances that go into an effective treatment approach. Make sure your facility provides treatment protocols specific to your needs.
5. Superior Patient Outcomes
Real-life patient outcomes and success rates give you an idea of exactly how effective a rehab center's treatment programs are. There are three possible ways to gather information about patient outcomes:
Ask the staff at the facility about patient outcomes and success rates
Inquire to your friends and contacts about their experiences at the facility
Read the reviews and compare rehab facilities with this tool
Any facility can use marketing materials to make their services appear successful, but actual patient outcomes provide more revealing insight about the true experience. Don't be afraid to ask for testimonials and recommendations.
6. Logistical Convenience
The location, hours of operation, meal plans, and policies of some facilities may make them a favored choice over another. Maybe you want a facility that's close to home and has a generous visitor policy, so it's essential to consider these logistical factors before making your decision.
All-inclusive practices also make your loved one's care a lot easier to manage than separate providers. Some rehab centers offer all facets of rehabilitation under the same roof, which saves you the hassles of scheduling and transportation to multiple locations. Be sure to make these logistical considerations when choosing an orthopedic rehabilitation center.
7. Continuum of Care
Continuum of care and transition of care are two terms you may hear about rehabilitation centers. These terms refer to how your care is handled as it changes from one facility or provider to the next, such as from a hospital to a rehab center. A good rehabilitation facility makes the transfer of care from one place to the next as seamless as possible.
The transition of care involves all your caregivers working together as a team to correlate your treatment. A good transition may also include arranging follow-up appointments, providing discharge instructions, and helping you make the transition home.
A smooth transition of care has many crucial benefits, including:
Improved communication among patient, family, and medical providers
Decreased disparities in care
On a personal level, an effective continuum of care makes the process of recovery easier for everyone involved. You and your family always know what to do and what comes next, and you're never left to figure it out on your own.
Make sure your facility has transitional care practices in place and possibly even caseworkers to help you manage all facets of treatment.
Rehab Select has some of the best orthopedic rehabilitation centers in Alabama to optimize your recovery, including transitional care, to help you navigate your time in treatment. To learn more, contact the rehabilitation center online or over the phone.