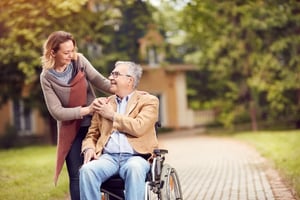 If you're caring for someone with Alzheimer's, you are likely to need support. Alzheimer's is a devastating illness for the sufferer but can also place overwhelming demands on the caregiver.
The Alzheimer's Association reports that nearly three-quarters of Alzheimer's caregivers struggle to maintain their own health, and a third say their health has suffered as a result of their caregiving. More than half describe the emotional stress of caregiving as high or very high. Infact, as many as 40% currently suffer from caregiver depression.
Fortunately, caregiver support is available for those who care for Alzheimer's patients, and it can make a major difference to the wellbeing of the whole family.
How Alzheimer's Memory Care Can Support Caregivers
1. Increase awareness of early Alzheimer's symptoms and late stage Alzheimer's symptoms.
Caregiver support, whether in the form of a support group, training program from the Alzheimer's Association, an at-home care service provider or an inpatient care facility, can help you and your family gain a better understanding of Alzheimer's disease. Increasing your knowledge about the condition has significant benefits, including:
Education about the disease makes you better able to care for your loved one, and better qualified to manage their symptoms.
Increasing your awareness helps you to see the challenging behaviors triggered by early Alzheimer's symptoms to be more understanding of your loved one. This can be emotionally helpful, enabling you to separate the difficult behavior from your loved one and thus reduce potential resentment and frustration.
Knowing more about late stage Alzheimer's symptoms helps you to prepare for the future. For instance, knowing that your loved one will reach a point where they are no longer able to make decisions for themselves can prompt you to organize power of attorney while the loved one is still legally competent.
2. Educate family members about signs of Alzheimer's disease to reduce conflict.
When a family member or members take on the care of a loved one with Alzheimer's, it can produce a high level of conflict. There may be disputes about care decisions or how to divide up the workload. One or more members of the family may feel overwhelmed and unsupported. If you are caring for an elderly parent, your children or spouse may resent the loss of your attention.
Caregiver support can reduce the amount of conflict in the family. By reducing the overwhelming burden of Alzheimer's caregiving, or delegating tiring responsibilities like day-to-day care, cooking and cleaning for your loved one, caregiver support can also help reduce the tensions that produce arguments. Professional advice on the appropriate care for an Alzheimer's patient at each stage of the disease can help resolve disputes. Respite care facilities or home care services can free you up to spend time with other family members, thus reducing resentment.
3. Help prevent and manage caregiver depression.
Alzheimer's caregivers are at serious risk of caregiver depression. Symptoms include:
Feelings of hopelessness, worthlessness or guilt
Difficulty sleeping
Changes in appetite and weight
Irritability
Withdrawal
Loss of pleasure in formerly enjoyable activities
Alzheimer's caregiver support can stop caregivers from plunging into depression. A support network can help prevent you from feeling isolated. Support resources such as respite care can give you a break from your responsibilities and reduce the strain you are experiencing. Sharing your feelings with a support group can help reduce feelings of guilt. Professional counseling from a mental health professional or social worker can be a very useful way to manage anxiety and recover from depression—or avoid it altogether.
Alzheimer's Memory Care: Types of Support
1. Support Groups
Support groups can be incredibly helpful for Alzheimer's caregivers. These groups are usually made up of fellow caregivers of patients with Alzheimer's, and so they can give you the chance to vent your feelings—even those that make you uncomfortable — in a non-judgmental environment, with people who understand exactly what you're going through. You can find a complete listing of groups here.
The Alzheimer's Association also offers an online support group, for caregivers who would struggle to get to an in-person meeting.
2. Legal Support
Alzheimer's caregivers not only have to cope with their loved one's physical and mental decline, but also the logistics of managing their illness. Alzheimer's sufferers will eventually lack the legal capacity to make decisions about their care or manage their own finances. So you as a caregiver will need to make plans on how to handle their guardianship once they are no longer independent.
An attorney who specializes in elder law may be the best person to advise on issues such as seeking power of attorney, legal guardianship, or a living will. Elder law specialists can be found on the Alzheimer's Association website here.
3. At-Home Support Services
Homecare services can be enormously helpful for caregivers. This could be as comprehensive as a full-care service, including assisting with all day-to-day activities, cooking, cleaning, and supervising medications or simply a professional who can give you an hour's break a few times a week.
Many at-home care providers offer overnight stays and can help advise on nutrition management. They usually charge by the hour. Of course, any home support service should be carefully vetted—see here for advice on questions to ask before signing a home support agreement.
If all that you need is some help providing meals for your loved one, consider contacting a meal service provider. (Some even offer free services.)
4. Daytime Services for Alzheimer's Memory Care
Adult day care services can offer a welcome respite from the daily grind of caregiving. These centers provide a safe and enjoyable setting for people whose disabilities make them unable to care for themselves and provide brain-stimulating activities for memory care. They can provide you with a few hours to yourself or consistent care for your loved one while you work. For advice on selecting a center and a list of centers in your area, visit the National Adult Day Services Association website.
5. Alzheimer's Memory Care Facilities
There may come a time when your loved one needs more care than you and your family are able to offer. At that time, you might wish to consider an Alzheimer's memory care facility. These facilities guarantee your loved one 24-hour supervision and support, with specialist staff who can ensure that they receive the very best in emotional, medical and physical care. They often offer social or recreational activities designed for Alzheimer's patients, as well as family support programs and therapy for your emotional needs.
Where can I find assisted living memory care near me?
Caring for someone with late stage Alzheimer's symptoms can be an exhausting and overwhelming experience, but you don't have to go it alone. There are a wealth of resources available to give you and your family the support you need at this very difficult time. If you are thinking to yourself, "how do I find Alzheimer's care near me," we'd love to have you visit one of our five Alabama Alzheimer's Memory Care locations. To learn more about getting help looking after a loved one with Alzheimer's, contact Rehab Select today to schedule a meeting.