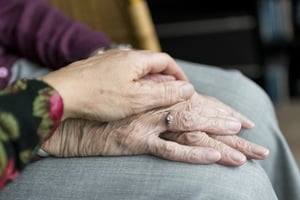 Whether you are a primary caregiver or part of a group of family members working together to provide their care, when caring for elderly parents, stress is part of the package.
Often, there is conflict in the family, as various members struggle to find their place in the care/support structure for elderly parents. Disagreements can happen surrounding care decisions, causing conflict among family members, and financial stress is often a factor.
Then there is the emotional stress that family caregivers feel. Watching elderly parents decline and become less able to care for themselves is very hard on adult children and other family members, and it brings the fact that they will not live forever clearly to mind. Additionally, when care for elderly parents begins to take up the time of adult children, their families – spouses, children, etc – get less of their time and attention, which is another very common cause of stress in the family.
Chronic stress, as most people know, can lead to lots of health issues. It can cause depression, anxiety, chronic fatigue. It can contribute to hypertension, heart disease, stroke, and other physical ailments.
It can also tear families apart and affect the quality of care your elderly parents are getting. So what can family caregivers do to help manage that stress? How can they prevent the stress of caring for elderly parents from becoming overwhelming?
Caring for Elderly Parents Stress: Managing Family Conflict
When your family is facing a situation as stressful and emotionally charged as the physical and/or cognitive decline of elderly parents, things can get very strained. Calling a family meeting can help. Everyone involved with or concerned about the care of your elderly parents, including the parents themselves, should be present – either in person or via Skype or similar services – and encouraged to share their concerns and propose solutions to them. Approach the meeting with a clear primary goal – to come together to work out a plan for your parents care as a family, and decide who will do what in putting that plan into action.
If the family conflict surrounding your parents' care seems impossible to resolve among yourselves, getting professional help is your next step. Having a mediator, elder care manager, or counselor involved in your family meeting as a neutral party can help your family overcome conflicts and make a plan that meets the needs of your elderly parents and the family members involved in their care.
Stress Management Tips for Primary Caregivers
If you are the primary caregiver, providing hands-on care or care management on a day-to-day basis, learning to manage the stress that inevitably comes with that role is essential – for your own health and well-being and that of your parents.
Amongst the most important things you can do to keep stress to a minimum while caring for elderly parents, is make sure you have an opportunity to vent.
See a counselor, join a caregiver support group and/or spend time with friends you can really talk to about your daily frustrations. Caregivers depression is a real problem for people who take care of elderly parents and is much more likely to become one for you if you don't reach out for the emotional support you need.
Other important ways to reduce daily stress include asking for help when you need it. That includes things like delegating some day-to-day responsibilities to family members, friends or hired help, and asking a friend or family member to step into your shoes once a week to give you a much needed day of rest.
For more information about caring for aging parents, view more articles here or contact Rehab Select today.