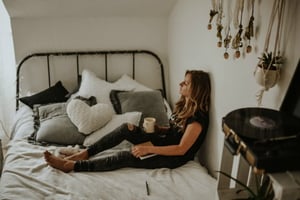 Alzheimer's disease, while most difficult for the person who has the disease, is very hard on their family as well. It is often referred to as a family disease, due to the affects it has on an Alzheimer's patient's loved ones as they witness and manage the long, slow process of decline that is the hallmark of this disease.
If your family is caring for elderly parents or other loved ones affected by the disease, here are some tips on coping with Alzheimer's in your family.
Educate Yourselves About Alzheimer's
Dealing with the changes Alzheimer's disease will cause in your loved one will be difficult, but knowing as much as possible about the disease, its stages and the symptoms that are likely to appear as it progresses can help make it a bit easier. Perhaps the most important benefit of learning about the affects of Alzheimer's, in terms of reducing family stress, is gaining the ability to see the often frustrating or upsetting behaviors and symptoms for what they are: Involuntary results of the progression of the disease, rather than intentional actions of your loved one.
An equally important benefit of being well-educated about Alzheimer's is that it arms your family with knowledge that is invaluable in preparing for the future needs of your loved one. For instance, knowing that virtually all Alzheimer's patients will need someone to make financial and medical decisions on their behalf at some point can help your family ensure that the legal documents enabling family members to make those decisions are in place – before their loved one becomes unable to grant that legal authority to others.
Coping With Alzheimer's Disease: Share Caregiving Responsibilities
As the old saying goes, many hands make light work. While coping with Alzheimer's disease in the family will never be light work, getting everyone involved in the care process can make things easier for everyone. Holding a family meeting to establish what each member can realistically do to pitch in is the first step to establishing an effective care plan. Some may be able to provide hands-on care on a daily basis, others may be able to step in once or twice a week to provide respite care, while others may be able to handle errands, bill-paying or household chores.
Keeping a family care plan efficient and effective will require open, honest communication between all involved, whether that happens via regular family meetings or through phone or email updates. If your family is having trouble getting on the same page, causing conflict, consider professional help, such as a counselor, social worker or mediator to help work things out and reduce family stress.
Get Support – And Support Each Other
Everyone who is involved in caring for elderly parents or other loved ones with Alzheimer's disease is hurting. They are all feeling the strain of watching someone they care about lose themselves to the disease. This can trigger a wide range of emotions, including fear, anger, sadness and frustration. It is important to keep this in mind as your family works to pull together to manage the situation. Doing so can help reduce conflict that can make an already stressful situation much worse.
Try to support your family members. Encourage them to share their thoughts and feelings, and share your own in a non-judgmental and non-confrontational manner. Reach out for help to aid yourself and your family in adjusting to these new circumstances. Support groups are easily available most everywhere for both individuals who are struggling and for families coping with Alzheimer's disease. Individual or family counseling can also be helpful.
For more information about caring for aging parents, view more articles here or contact Rehab Select today.