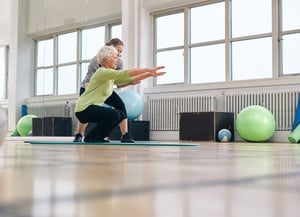 If you are assisting with care decisions for a loved one who will need rehabilitative care after a serious injury, illness or medical event, as you likely have already discovered, making those decisions can be a confusing and stressful process. One decision you will probably be expected to make is a choice between using an inpatient physical rehabilitation center or outpatient services for that care. So how do you know whether your loved one needs inpatient rehab care?
About These Two Options for Rehabilitative Care
Inpatient physical rehabilitation center care is the more intensive option of the two, offering a minimum of 3 hours of therapy daily, including physical, occupational and speech therapy. It also offers comprehensive evaluation to ensure individualized treatment, and 24 hour medical/nursing care according to the individual needs of patients. Evaluation, therapy and care is provided by a physician-led, multidisciplinary team of rehabilitation professionals, which typically includes doctors, specialists, nursing staff, physical, occupational and speech therapists, care coordinators, nutritionists, counselors and social workers, among others, to ensure that each patient receives care that promotes safe, successful recovery and rehabilitation in the shortest possible amount of time.
Outpatient rehabilitation services, delivered by a clinic or private therapy practice would require that your loved one attend appointments at these facilities, typically 2 or 3 days per week for therapy sessions that last 30 minutes to an hour. Therapists usually also expect patients to perform prescribed exercises and activities on their own, between therapy sessions. In many cases, separate appointments will need to be scheduled for each type of therapist your loved one needs to see.
Does Your Loved One Need an Inpatient Physical Rehabilitation Center?
Inpatient physical rehabilitation is generally the best option for people who are left with serious functional impairments after illness, injury or surgery, individuals who have complex rehabilitative needs, and patients who need close medical monitoring and/or can benefit from professional guidance and supervision to ensure their safety as they recover and rehabilitate. Examples of situations that may call for a stay in an inpatient physical rehabilitation center include:
Recovering from hip fracture

Recovering from joint replacement surgery or other orthopedic procedures

Recovering from a stroke that resulted in significant impairments

Recovering from heart attack or cardiac surgery

Suffering from Parkinson's disease, Alzheimer's disease or dementia

Diagnosed with COPD or other types of pulmonary disease

Hospitalized for diabetes complications

Suffering the effects of advanced osteoporosis

Suffering impairments from advanced arthritis
These are just a few examples of conditions or situations that can make inpatient rehab the best option for your loved one's recovery period. Basically, if your loved one will have trouble managing their own recovery, including handling their own medications and wound care, managing personal care, such as bathing, dressing and toileting, getting around the house and managing household tasks safely, and getting back and forth to medical and therapy appointments, spending some time in an inpatient physical rehabilitation center may be the right choice.
This will place all these and other details in the hands of professionals, leaving your loved one free to focus on making their best recovery and regaining their own best level of health, function and independence.