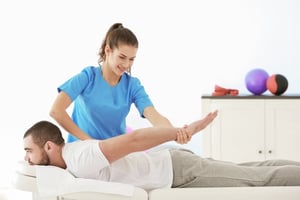 Are you planning for a joint replacement procedure in the near future? If so, it is very important to put some thought into how your recovery and rehabilitation will be handled afterwards. Solid care and therapy during the post-surgery period can be as important as the procedure itself in terms of your overall results from joint replacement. Inpatient rehab centers are definitely an option to consider for ensuring that your needs are met during this period, since they can offer important benefits to joint replacement patients.
More Intensive Therapy and Treatment
Inpatient rehab centers are equipped to provide a higher level of therapy and care than can be had via typical outpatient or in-home rehabilitation services, promoting faster, more complete recovery and rehabilitation. For instance, patients who check into an inpatient rehab program receive a minimum of three hours of therapy time daily, which is provided at least 5 days per week. Outpatient rehab usually means seeing therapists two or three days a week for an hour or so. Additionally, rather than seeing a single therapist for office or home visits, as is common in outpatient programs, inpatient rehab centers use a team approach to therapy and care. Patients are evaluated and treated by a tightly-coordinated, physician-led team of rehabilitation professionals, including rehab physicians and nursing staff; medical specialists; physical; occupational and speech therapists; case managers; nutritionists and others, as determined by each patient's individual needs.
Comprehensive Care and Support
Patients who choose inpatient rehab centers for their care after joint replacement surgery are provided with 24-hour care and support. This includes a variety of services that can have a big impact on recovery, including medical care and monitoring, wound care and nursing care, which can reduce risk of complications, and medication, management, pain management and personal care services that help increase comfort and reduce stress.
Reliable Access to Rehabilitation Staff, Equipment and Facilities
Rehabilitating after a serious surgery like joint replacement is hard work. Having reliable access to high quality, modern equipment and facilities to do that work is important to making steady progress towards your rehabilitation goals. Inpatient rehab centers are typically much better equipped than outpatient programs, with modern, effective rehabilitation facilities and equipment, and patients have 24-hour access to these resources. Additionally, staff is present and available 24 hours a day, providing a safe, secure and comfortable environment for patients as they make use of them.
Another benefit of using an inpatient rehab center after surgery is that you will have a break from worrying about household tasks, such as grocery shopping and other errands, meal preparation and cleanup, laundry and so on as you work to recover. You will also avoid the hassles that come from not being able to drive right after surgery, which can make getting to therapy and medical appointments difficult. So, more intensive treatment, solid care and support, great equipment and facilities and a safe, convenient setting for your recovery – these are benefits that certainly make inpatient rehab centers an option to consider carefully as you make plans for your care after joint replacement surgery.