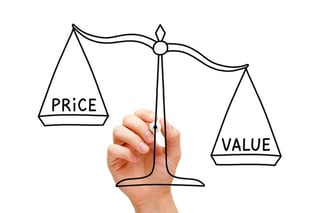 While quality of care and quality of life are certainly the primary considerations in choosing a long term care facility for yourself or a loved one, there is no getting away from the fact that costs must also factor into that choice. Comparing costs from one facility to another can be a confusing process since services provided and financial arrangements concerning those services vary widely. So how can the average person make reasonably accurate cost comparisons?
Here are basic steps to take to get a true picture of the costs associated with each facility you're considering for your care needs.
Find Out the Basic Daily/Monthly Rate – and What It Covers
Long term care facilities typically charge a base rate for basic care, offering per day and/or per month figures to healthcare consumers who inquire about costs. However, the care and services that are included in that base-rate care package can differ significantly from one facility to another. That means that you'll need to ask each facility for a breakdown of just what care and services you can expect to receive under that basic care rate in order to make accurate comparisons.
Get a Complete List of Fee-Based Services and Their Costs
Most long term care facilities offer a certain number of services that are not included in their base rates. These are typically called fee-based services, and healthcare consumers who take advantage of these services must pay for them separately – incurring costs over and above the daily/monthly base rate. Each facility will have a different line-up when it comes to fee-based services, and you'll find that some services that are covered under base rates at one facility may cost extra at another. For that reason, it is essential to ask for a detailed list of fee-based services from each facility you choose to evaluate, allowing you to calculate the costs of any services you would need or want to use on a regular basis.
Calculate and Compare Total Costs
Once you have a clear idea of the services included in basic care and the cost of any fee-based services you would be using, adding these costs together should give you an accurate assessment of just what your total costs would be for each long term care facility on your list. Your last step is to compare those total costs between facilities in order to choose the one that offers the quality care and services you need at the best overall price.