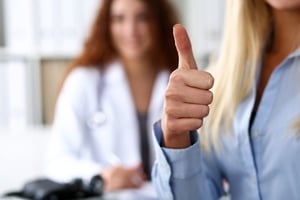 If you are in search of a facility to provide for your long term care needs, quality is of prime concern. So how can the average person, with little or no experience with these types of facilities, accurately assess their level of quality? Here we'll go over the what you need to know about how to check for quality as you compare long term care facilities in your area.
Look Up Their Medicare Ratings
Medicare provides online resources to aid people in comparing the quality of long term care facilities they are considering for their care. This comparison tool provides vital information on every Medicare-certified long term care facility in the U.S., detailing factors like quality measures that provide insight on quality of care in each facility, as well as staffing information, health and safety inspection reports and information on any penalties or fines that have been imposed. Along with these details on facility operations, Medicare also rates these facilities based on how their performance on the factors listed above compares to state and national averages.
Call the Long Term Care Ombudsman
For information that originates a little closer to home, you should also call the Alabama long term care Ombudsman. This agency works to protect the interests of and advocate for people who reside in long term care facilities, visiting these facilities regularly, looking into resident complaints and keeping track of things like licensing status and inspection reports. That means that they will be familiar with specific facilities in your area and be able to provide you with invaluable information on the quality of their care, services, staff and facilities – a service they perform regularly for individuals who are comparing their long term care options.
Take Tours
Your next step in checking quality is to tour facilities that rate well with the above sources to gather your own personal impressions. You'll need to call and make appointments for those tours. Make sure that you arrive a little early for each one, since there are a few things you will need to check into before they begin.
First, speak to residents and/or family members – if they are willing – for first-hand information on care and services, and to staff to get a feel for facility attitudes and atmosphere. Look for inspection reports, which should be publicly displayed, and ask if patient/family satisfaction surveys are conducted, and if so, ask to see them.
Once your tour begins, factors to take note of include the cleanliness and comfort of the facility, the appearance and morale of residents/patients, whether staff-resident interactions are caring and respectful, and whether meals are appealing and dining areas are pleasant.
Drop By for Impromptu Visits
While tours are great for getting a feel for a facility and have your questions answered, unplanned visits can give you more insight into day-to-day conditions. For this reason, making informal visits to facilities you're interested in is important. Visit a couple of times, at different times of day – once in the early morning and again during meal times. A visit on a weekend, when facilities may have lower staff levels, may also be wise to gather a complete picture of what to expect from each facility.
Once you have taken these steps, you should have all the information you need to make a sound judgment on the quality of each facility you have evaluated. From this point, choosing the right one for your care is a matter of comparing the highest-quality options to see which can best meet your needs in terms of services, costs, location and personal preferences.