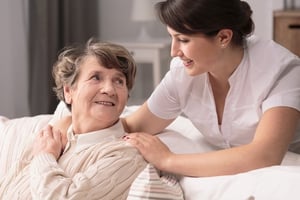 Long term care services is a term used to describe a range of health, personal care, and support services designed to meet the needs of people who struggle with self-care. This may be a temporary circumstance, caused by a short-term injury or illness, or a permanent situation, brought about by chronic illness, long-term disabilities, cognitive or neurological issues or the aging process.
Long term care is provided to individuals in need of these services in a variety of settings. Most common are home-based services provided by home care agencies, services provided in assisted living and other residential care facilities, and care provided in nursing homes and skilled nursing facilities.
While the specific services offered in these different setting varies to some degree, all are geared toward helping people who need long term care maintain their own highest possible level of personal independence.
8 Services Typically Offered in the Long Term Care Setting
Personal care services, including assistance with bathing, dressing, grooming, toileting, eating, mobility, and other tasks according to individual needs.

With home care, assistance with housekeeping, meal prep, laundry, shopping, transportation and other household tasks.

Assistance with acquiring and learning to use necessary medical and adaptive equipment.

Therapy services, such as physical, occupational and/or speech therapy.

In residential or nursing facilities, medication management or supervision is typically offered.

Alzheimer's or dementia care are long term care services commonly offered in skilled nursing facilities, nursing homes and some assisted living centers.

Nutritional care for those with specialized diets, such as diabetes or heart disease patients.

In nursing homes, skilled nursing facilities and other residential/inpatient long term care settings, around the clock personal, nursing and medical care are generally offered as part of basic long term care services.
In general, you can expect residential facilities, including nursing homes and skilled nursing facilities, to provide a wide variety of long term care services according to each resident's personalized treatment plans, since these long term care environments are designed to offer comprehensive care.
Assisted living centers vary widely in the services they offer to their residents, with some offering a wide array of long term care services comparable to nursing home care, and others offering a very limited selection. Home care generally offers a selection of household, nursing and other services suitable for people who are independent enough to live at home with relatively minor assistance or have plenty of help from family and friends.
That being said, it is important to note that these are general guidelines, so it is essential to look into the long term care services offered by any specific facility, center, agency or program you may be considering to meet your long term care needs.