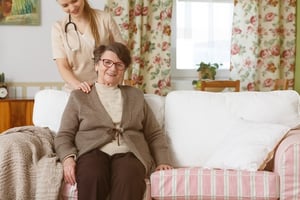 Home care is a long term care option that many consider for their loved ones when they are no longer able to safely and effectively manage on their own due to illness, injury, or significant medical events. Regular visits from home care providers can be a good solution for many, providing the help they need to function well and safely in their own homes. However, like any type of care, it isn't right for everyone. So what do you need to know to make a solid decision on whether or not home care is right for your loved one?
Here are some important factors to consider:
What type of care does your loved one need?
Home care can be a very workable long term care option for individuals who need relatively minor assistance to continue living at home safely and comfortably. This includes people who need help with tasks like housekeeping, laundry, meal preparation, shopping, getting to medical appointments and similar daily tasks. Home care can also be appropriate for people who may need some personal care assistance, such as help with bathing, dressing, and/or toileting for instance, but are otherwise fairly independent. In-home care may also be a good solution for individuals who are in fairly good physical health but have trouble remembering to take medications, pay bills, eat and/or otherwise care for themselves.
On the other hand, home care may not be the best long term care choice for people who need around-the-clock care and/or supervision to be safe at home. This may include people with complex medical needs, who have temporary or permanent disabilities that severely limit mobility, or are significantly affected by conditions that impair judgment and memory, such as Alzheimer's or dementia, that may lead to difficult or unsafe situations between home care visits. In these situations, assisted living or skilled nursing facilities may be more prudent long term care options.
Is the home a safe, healthy and accessible environment or able to be modified to be so?
Things to look at in this regard are whether the home is or can be made clean and in good repair to ensure health and safety. If your loved one has mobility and/or balance issues, you'll need to consider the layout of the home. Are critical areas accessible? Must stairs be navigated to reach the bathroom or bedroom? Can the home be easily modified to provide for all of his or her needs on one floor? Basically, you need to assess just how well your loved one will be able to manage at home – both with the assistance of home care staff, as well as alone, between home care visits.
Lastly, home care services can be quite wide ranging, but they cannot provide everything your loved one needs. That means that having a support system in place to pick up the slack is essential and that home care is most appropriate for individuals who have family or friends who are willing and able to reliably provide some of the care or assistance they need to be safe, comfortable and well-cared-for at home.