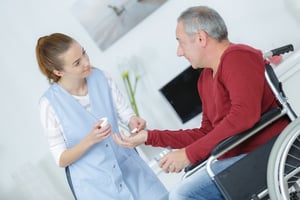 Choosing a long term care facility, whether for yourself or a loved one, is a very big, important and complex decision. Choosing well is a process, one that will require quite an investment of time and effort. You will, of course, need to focus a great deal of that time and effort on researching the reputation of each facility you're considering in terms of quality of care, environment and cost, among other factors. However, once that is done and it's time to visit and interview each facility that makes it through the vetting process to your short list, there are 3 important questions to ask yourself as you make those visits in Alabama facilities.
What is your impression of the residents?
Do residents seem happy? Are they engaged and sociable? Are they participating in activities and exercise? Are they clean, well groomed and well dressed? Are there signs of friendly relationships with staff members? Do they have good things to say about the facility and staff? If most residents seem to be happy and comfortable in a long term care facility, this is a good indication that the facility is meeting their physical, emotional and psychosocial needs, which in turn is an indication of quality.
What is your impression of the staff?
Are staff members friendly, helpful, and respectful in their interactions with residents, families and visitors? Is the staff available to answer questions or assist residents and/or families? Do they respect the dignity and privacy of residents via actions like shutting doors during personal care, knocking before entering a resident's room and keeping sensitive patient care discussions behind closed doors? Do they respect residents' choices related to their daily routines? Quality long term care facilities will expect their staff to meet these standards, and will provide sufficient staffing numbers to ensure that the needs of their residents can be consistently met.
How do you feel about the facility's environment and atmosphere?
Does the facility look clean? Does it smell clean? Does it feel warm and welcoming? Are safety features in place, such as hand rails in hallways, emergency call buttons/pulls and grab bars in bathrooms and non-slip flooring throughout? Are there comfortable common areas for residents to socialize among themselves? Are dining areas comfortable and accessible, with staff on hand to assist residents as needed? Are meals nutritious and flavorful? Are there outdoor areas for the enjoyment of residents? Is there a good mix of services, amenities and activities for residents? These are essential elements of a high-quality long term care facility.
Asking yourself these questions serves the purpose of allowing you to answer more major ones, such as:
Is this a facility in which you would feel comfortable, secure, valued and well-cared for?
Is this a place in which you would feel content spending your time?
Whether you're choosing for yourself or a loved one, evaluating your personal observations and impressions can help ensure that you select the long term care facility that can best meet your individual needs in terms of both quality care and personal comfort.