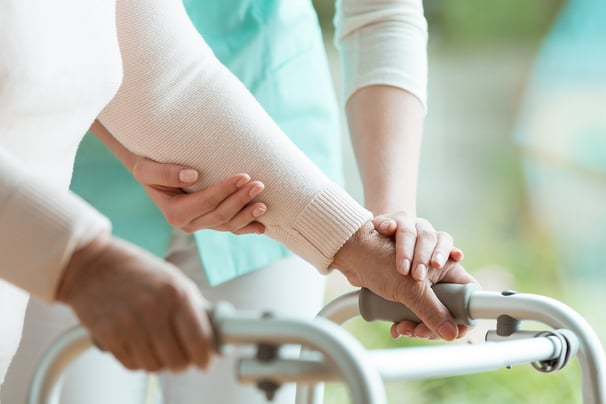 It's never an easy decision to transfer a loved one struggling with dementia or Alzheimer's disease to a senior living memory care facility. However, doing so often become necessary when the patient's health condition worsens and requires specialized attention that memory care home solutions can't provide.
Download our ebook to learn the most important factors when considering memory care services for your loved one with Alzheimer's or dementia.
Moving a loved one to an Alzheimer's memory care facility at the right time benefits the patient, family members, and caregivers. Here's how the right provider can support you to navigate this journey.
1. Access the Right Resources to Care for Your Loved Ones
As an individual progresses through the different stages of dementia, their health deteriorates. They often need care that requires specialized knowledge and equipment not available via memory care home solutions. Trying to care for a loved one at home without the proper knowledge or resources will jeopardize their health while putting undue strain on the caregiver.
A reputable memory care facility employs staff, therapists, and clinicians who know how to treat dementia by implementing the right care plan for individuals with dementia. It also has the expertise and equipment to help slow down the progression of symptoms and improve quality of life. Instead of worrying if you can give your loved one the best care, you can relax and enjoy spending time with them in a welcoming environment.
2. Avoid Risking Your Own Health and Wellness
Caregiving is physically and mentally demanding. Besides not having the time and resources to perform self-care to stay healthy, many caregivers struggle with feelings of stress, guilt, anger, sadness, and isolation. Some also suffer from depression. If you have become impatient and irritable or feel that your physical abilities are no longer enough to care for the patient, your own health and well-being could be at risk.
As an example, if you need to lift the patient in and out of bed every day but don't have the physical strength to do so safely, you could injure yourself and the patient. Whereas staff at a memory care facility will be trained in proper lift techniques and have physical aids to minimize risks.
3. Get the Support of a Memory Care Community
Taking care of a loved one at home can become a lonely endeavor. Such isolation is detrimental to the patient and can impact the caregiver's mental wellness. Facilities that offer a memory care community provide a nurturing environment where patients' families interact with and support each other. The structured schedule also enables patients to participate in various activities with minimum stress.
Additionally, reputable memory care facilities ensure that family members are involved in the patient's care. They offer family support and educational programs to help you navigate the transition and provide the appropriate support as your loved one's health condition changes. You can have the peace of mind that your loved one is receiving the best possible care to support their mental and physical wellness.
4. Ensure the Safety of Yourself and Your Loved Ones
Alzheimer's behavioral symptoms become more severe as the disease progresses. Wandering can worsen, and the patient is more likely to trip or fall, leading to injuries. An Alzheimer's memory care facility offers safety features including 24/7 security, monitoring systems, alarms, navigation cues to aid walking down hallways, medication management, and on-site medical staff, so you can rest assured that your loved one is safe.
Some dementia patients may exhibit aggressive behaviors or refuse care to the extent that could jeopardize the safety of themselves and their caregivers. A memory care facility hires professional staff members who know how to manage aggression and other Alzheimer's behavioral symptoms safely to ensure that the patient gets the care they need without unnecessary stress.
5. Regain Control of Your Work and Life
The time required to care for an Alzheimer's patient can creep up on you. In the early stages, they may need only a few hours of attention occasionally on a bad day. But before you know it, caregiving requires a significant portion of your time each day while the tasks themselves become more demanding. Many caregivers neglect their work responsibilities and their families to keep caring for dementia patients.
If your career, finances, or relationships are suffering because you can't devote the time and energy to caregiving responsibilities, it's time to get help. At this point, resentment may develop, especially if you're the only sibling or relative living locally and the burden falls solely on you. Getting the support of a senior living memory care facility can help you lighten the load and refocus on yourself—the foundation you need to care for others in your life.
How to Find the Right Memory Care Facility Near Me
Getting the support of a memory care facility designed around how to treat dementia can relieve the pressure on the caregiver while ensuring the mental and physical wellness of the patient. You can have the peace of mind that your loved one is well cared for, while you can avoid reaching a level of burnout that affects your health, career, and/or relationships. 
Look for a memory care facility that provides 24-hour personalized attention delivered by professional staff trained in dementia and Alzheimer's care. Social and recreational activities can help manage the progression of symptoms, while on-site therapies and behavior management programs ensure that your loved one gets well-rounded care. Safety should be a consideration throughout, with features that provide security and minimize potential for harm.
Meanwhile, a memory care facility should recognize the role of family members in shaping the care plan for individuals with dementia. For example, it should offer family support and educational programs to help families navigate the transition to reduce the stress on the patient and the caregiver. 
There's a lot to consider when selecting a memory care facility, and Rehab Select is here to help. Schedule a tour of our locations in Alabama to see how we can partner with you to take care of your loved one while supporting you in this journey.