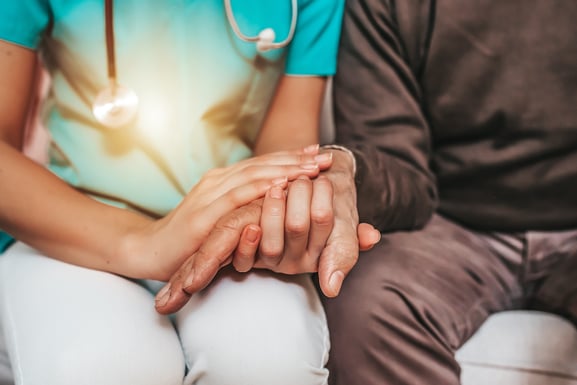 When looking for comprehensive care for a loved one with Alzheimer's disease or another form of dementia, a memory care community can offer the right support. Clinicians and therapists understand the needs of those with memory conditions, and many aspects of the environment are structured to provide the right level of assistance and security. 
Download our ebook to learn the most important factors when considering memory care services for your loved one with Alzheimer's or dementia.
This article discusses what to expect from a memory care community, who can benefit most from memory care, and key considerations when comparing memory care vs. nursing homes. 
3 Features of a Memory Care Community
A memory care community is designed to support the unique needs of patients with Alzheimer's disease or other forms of dementia. The facilities recognize the need to provide specialized, intensive care for people with memory loss issues in three key ways: support, structure, and safety.  
Support
Comprehensive support is integral to memory care, which is why a memory care community typically provides a low staff-to-resident ratio. Patients are encouraged to be active and generally have access to a range of tailored services, from memory games that can slow memory loss progression to speech therapy and family therapy. Also, specialized caregivers can assist with practical activities of daily living, such as dining, bathing, dressing, and toileting.
Structure
To minimize stress, highly structured routines are built into the day to day of memory care. In addition, the environment itself will use cues to minimize confusion. For example, most memory care homes are built with simple hallway designs and feature clearly labeled doors and rooms that ease navigation.
Safety
Memory care facilities provide 24/7 supervision and medication management. Also, to eliminate the likelihood of an individual wandering and getting lost, a memory community will ensure doors and windows are secure and access to outdoor areas is controlled.
Considerations When Choosing Dementia Care
Alzheimer's disease and other forms of dementia are progressive. At times, patients may wander, be depressed or remain disoriented for a period, although these symptoms may vary and often vary over time. Since patients' needs may change, it's important when viewing memory care options to consider: 
The level and types of dementia care options available and ease of transitioning between them
General approach to activities and therapies, including availability of support services and, when appropriate, prevention strategies to slow the course of memory loss
Supports built into the physical environment to accommodate changing safety needs, such as handrails, water temperature controls, etc.
Staff trained to accommodate the unique needs of patients with progressive memory loss and related conditions 
Memory Care vs. Nursing Homes
Many people mistakenly believe memory care facilities are the same as nursing homes (also known as skilled nursing facilities). While both provide around the clock supervision and support for activities of daily living, they are not similarly structured. Even when memory care and nursing homes provide similar health and personal care, they significantly differ in specialization. 
Training and staffing
When comparing memory care vs. nursing homes, a key difference is that memory care facilities have staff specially trained to interact with patients managing memory-related conditions. They have expertise in how to take care of dementia patients, with training that has made them alert to signs of memory loss progression. They also have learned strategies to prevent or manage confusion, agitation, delusion and other symptoms that are common among those with memory issues. And they are attuned to security concerns specific to those with dementia. As noted, staffing ratios also tend to be lower, as supervision needs tend to be more demanding in dementia care settings.
Patient population diversity
While memory care homes specifically provide care to those with Alzheimer's and other forms of dementia, a nursing home serves broad patient populations. Nursing homes accept patients with all types of conditions or illnesses that can require full-time assistance. Nursing homes may provide both short-term care, such as rehabilitation services for people recovering from surgery, an acute injury, or illness, or long-term care, such as helping people with cognitive disorders, terminal illnesses, or chronic conditions.
Level of clinical care need and patient ambulation
Generally, memory care tends to be very homelike, while nursing homes provide more clinical settings. Patients in memory care settings generally are able to walk and can participate in a variety of activities. While patients in nursing homes won't require hospital care, they often are in need of daily nursing care and may need a wheelchair or perhaps are bedridden.
A nursing home is more appropriate than memory care––even for those individuals with memory-related issues––when the patient: 
Has a debilitating medical condition on top of Alzheimer's disease or another form of dementia
Is not ambulatory (able to walk)
Needs only a short-term residency following a stay in a hospital or to rehabilitate from an accident 
Availability
Memory care, whether provided as a unit within a larger healthcare facility or in a standalone facility, is structured solely around how to take care of dementia patient needs, and thus is a very specific type of setting. Because the focus of memory care is so narrow, facilities that offer memory care are limited and many programs can experience wait times.
Memory Care Communities Near Me
If you live in the greater Talladega, Alabama area and are looking for the right memory care community, discover Rehab Select at Talladega. Our modern facility provides human-centered programs to meet the emotional, physical, and mental needs of those with Alzheimer's and other forms of dementia. You'll find 24-hour personalized care, a safe, structured environment, and access to supportive therapies and activities. Contact us today to schedule a tour and learn more.