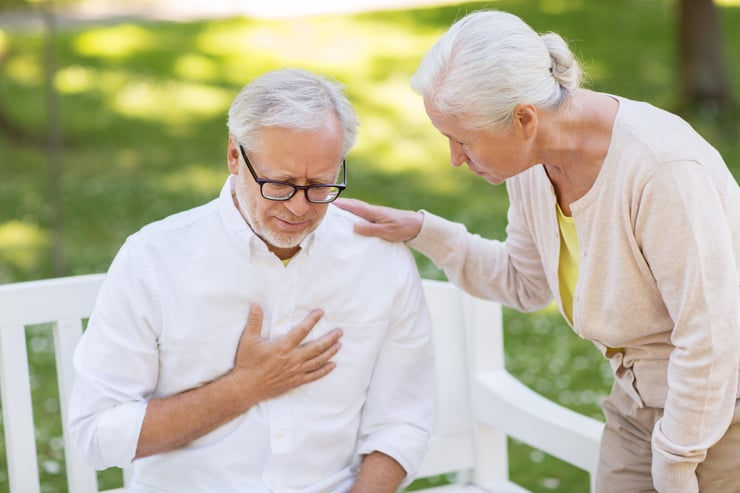 You recently suffered from a heart attack – and while it was scary, you're starting to feel better. You're following your doctor's orders by eating heart-healthy foods, exercising, and reducing stress wherever possible. So why does your doctor still think you need a cardiac rehabilitation program?
It turns out a cardiac rehab program is valuable for people with a wide range of heart diseases. From chest pains to heart transplants, all conditions in which the cardiac system has faltered need long term attention.
This article will cover what cardiac rehab is and how it can help you return to life as you knew it before a cardiac event.
What is Cardiac Rehab?
The American Heart Association defines cardiac rehab as a medically supervised program that consists of exercise training, education on heart healthy living, and counseling to reduce stress and help patients become active again. Cardiac rehab offers a multifaceted and highly individualized approach to improve the overall physical, mental, and social health of people with heart issues.
Who Benefits from a Cardiac Rehab Program?
According to the Centers for Disease Control (CDC), cardiac rehab helps men and women, people of all ages, with a range of mild, moderate, and severe heart problems.
You may benefit from cardiac rehab if your medical history includes:
Heart attack
Coronary artery disease
Heart failure
Peripheral artery disease
Chest pain (angina)
Cardiomyopathy
Certain congenital heart diseases
Coronary artery bypass surgery
Angioplasty and stents
Heart or lung transplant
Heart valve repair or replacement
Pulmonary hypertension
How Can Cardiac Rehab Help?
The CDC has found specific ways that cardiac rehab can benefit your health in both the short and long-term, including:
Strengthening your heart and body after a heart attack.
Relieving symptoms of heart problems, such as chest pain.
Building healthier habits, including exercise, quitting bad habits like smoking, eating heart-healthy foods. You may have access to a nutritionist to teach you how to make and recognize heart-healthy meals.
Reducing stress with methods like meditation, hobbies, and therapy.
Improving your mood. People often feel depressed after a heart attack.
Increasing your energy and strength so you can power through your daily life more easily.
Helping you take your medication with reminder calendars, pill boxes, and other methods.
Preventing future heart problems and death. Studies have found that cardiac rehab decreases the chances you will die in the five years following a heart attack or bypass surgery by around 20% to 30%.
What's Involved in Cardiac Rehab?
Every patient's program is somewhat different, but there are generally four phases of cardiac rehab that most patients experience:
Phase 1: Hospitalization
It could be you've already experienced part of your rehab when you were hospitalized. Clinicians may start you on a limited exercise regimen and instruct you on how to take your medications. You'll receive a discharge plan and based on the assessment you were given, may be assigned a physical therapist for outpatient care.
Phase 2: Subacute Outpatient Care
This phase moves you toward independent care. The primary focus of this 3-6 week phase is close monitoring of your recovery. You will also receive more training on how to manage your condition.
Phase 3: Intensive Outpatient Rehab
Here is when cardiac rehab really turns into a "lifestyle change" program and introduces more independent exercises and self-monitoring. Typically, it will comprise 36 outpatient sessions, although that varies. Education at this stage will focus on nutrition, healthy lifestyle practices, and stress management.
Phase 4: Maintenance
By this time you know how to manage your heart condition. You'll continue to follow the same regimen you were on for exercise, nutrition, and lifestyle and will visit your doctor regularly.
What Might My Plan Look Like?
Although these phases are well-known, putting them into practice can vary greatly depending on each patient's complex case. To help you navigate your cardiac treatment, the staff at Rehab Select will create a personalized cardiac rehab plan for you based on your needs.
A personalized cardiac rehab plan may include:
A supervised exercise regimen which evolves as you improve
Patient education and wellness programs, like cooking demonstrations
Nutrition counseling
Smoking cessation counseling
Stress management
Individualized risk management recommendations with regular evaluations
Physical and occupational therapy
Psychological and pharmacological counseling
Referrals to other medical areas as necessary
Is Cardiac Rehab Covered By Insurance?
While you'll have to check with your specific insurance provider, your cardiac rehab may be covered. For example, Medicare provides coverage for cardiac rehabilitation or physical therapy for most heart conditions. Check with Medicare and your medical team and insurer to make sure cardiac rehab is covered under your plan.
Your health care team at Rehab Select will evaluate your medical history and health to make sure you're ready to start a cardiac rehabilitation program.
Contact us to learn more about cardiac care at Rehab Select.