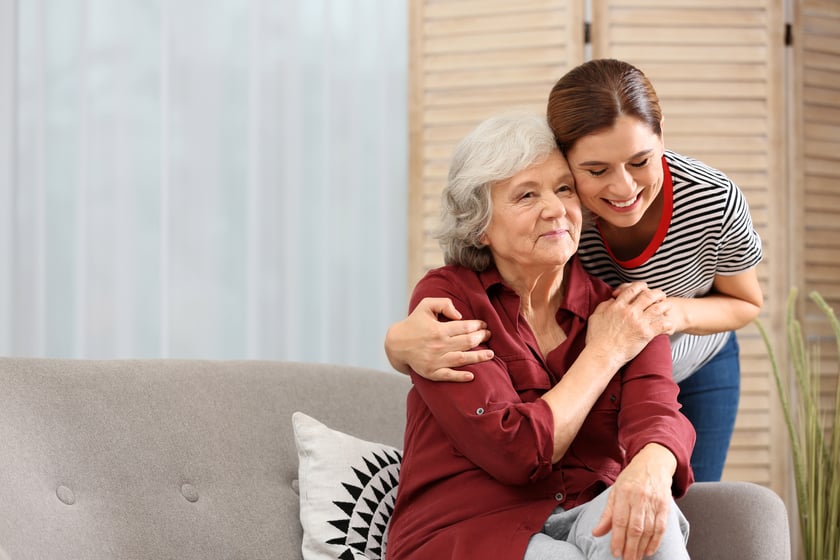 It's difficult to watch someone you care about suffer through a stroke, and the additional prospect of taking responsibility for their care can be overwhelming. However, with some preparation and advocacy, you can take some of the pressure off and make the best decisions to support your loved one's recovery.
Preparation involves gathering as much information as you can and preparing for their care. Advocacy involves putting that information to work to help make the best decisions for them.
Now you might be wondering what you need to do to prepare and advocate. First, remember the effects of stroke and recovery timeline is different for everyone, so expecting the unexpected can make the process a lot easier to handle.
However, this post-stroke action plan can guide you in the right direction for what to do after a loved one has a stroke.
9 Tips for a Post-Stroke Action Plan for Caregivers
1. Take the Stroke Recovery Process One Step at a Time
Overwhelm starts to build when you think too far into the future and let your mind race with all the what-ifs. To lessen the overwhelm, try to take a step back and focus on each stage in the recovery process as it happens. Here's what the recovery process might look like:
The stages to recovery include:
Stage 1: This stage starts in the hospital with testing and treatment to prevent further damage and begin rehab. The first 24 hours are the most crucial, and prompt treatment lessens the damage.
Stage 2: Most people experience the majority of their recovery during the first 2 weeks following the stroke. Typically, at least one week is spent in the hospital, after which the patient is moved to either a long-term care or rehab facility.
Stage 3: Months 1-3 are when the most intensive rehabilitation happens because it's the time with the most potential for improvement.
Stage 4: After month 3, rehabilitation continues at home or in a facility with regular check-ins with the care team.
As your loved one moves through the stages of recovery, try to focus on the stage they're in at the moment and what you can do for them. That could mean anything from making sure their hand is held to lining up appointment transportation. It's easier to face post-stroke recovery one step at a time than face the entire process all at once.
2. Avoid Surprises
With a medical brain condition, some surprises are inevitable. However, you can lay some groundwork to head off certain surprises, such as bills and rehab schedules. The best way to avoid surprises is to ask as many questions as possible to get clarity on what's going on and how you can help.
Tasks such as calling your loved one's insurance company to discuss coverage and speaking with their medical providers for recommendations can help you gain clarity. At Rehab Select, your family member's care team can share the post-stroke care plan they put together so you know what to expect. This takes some of the guesswork and unpredictability out of the recovery process.
3. Learn as Much as You Can About the Stroke Recovery Process
Another proactive way to prepare for the stroke recovery stages is to do research. Learn what you can about what stroke does to the brain, the available treatment options, and any medication side effects that might occur. You can gather material from your medical specialists and your own research sources. It's easier to accept what you expect.
4. Put Together a Care Binder
You're likely going to accumulate a stack of papers from the hospital and the various medical providers and therapists that your loved one sees. You may also find compelling material during your own research, and you may want to keep all the information organized and easy to find in a binder.
In your care binder, you should also keep a list of the names and contact information for all medical providers and any details of your loved one's care. You should also have the names and schedule of all medications listed on one sheet for convenient reference. You may choose to keep a copy of your family member's rehab schedules in the binder as well.
This binder is an excellent reference for both you and your loved one's other caregivers. Your family member may appreciate having all the records in one place once they're in a position to take over as well.
5. Look for Any Changes
If you're spending a significant amount of time with your loved one, you might be the first to notice changes in them. If you notice new symptoms such as dizziness or mood changes, it's important to tell your family member's doctor right away. Your loved one may not be able to identify or communicate these changes, so this is an opportunity to advocate for them. Your care team may need to monitor the new developments or make treatment adjustments based on this information, so speaking up is instrumental.
6. Schedule a Tour
If you're tasked with choosing a care facility for your loved one, you can narrow your choices by touring prospective facilities before they're discharged from the hospital. You can get a good feel for the environment and level of care by visiting in person. The staff can show you around and help you visualize and wrap your mind around what to expect, so it's less daunting when the time comes.
7. Make Modifications at Home
Another proactive way to help your family member after a stroke is to help make necessary modifications at home for them. Your loved one's physiatrist and occupational therapist may recommend some modifications to make your loved one safer, such as clearing pathways and adding bathroom rails. Balance and motor skills are a few areas that may be affected by stroke, and a few adjustments can make the transition home a lot easier and safer.
8. Surround Yourself with Support
If you're the primary caregiver for your loved one, you may feel an overwhelming sense of responsibility. If you don't make space for your own needs and pleasure, the stress may catch up to you. It's essential to have a support system behind you as well. You may need to ask for extra help around your own home or recruit backup caregivers to allow you time to rejuvenate. Make sure to get adequate rest and take care of your own mental and physical needs too. A support group is a great place to find support with others who are in a similar situation.
9. Monitor and Prevent
Once your loved one settles into their long-term living arrangements, you can help ensure they achieve the best quality of life. You can also take a proactive role in helping prevent future strokes by encouraging them to eat right, stay active, continue their exercises, and follow their doctor's recommendations.
You can also learn the warning signs of stroke and what to do in case it happens again. The acronym FAST, which stands for face, arms, speaking, and time, is a good way to remember what to look for. If you notice any drooping in the face, weakness in the arms, or speaking difficulties, it's time to call 911. In addition to memorizing this acronym, you may also feel more prepared for an emergency by taking a local course in CPR or stroke care.
Your role as a caretaker is paramount to helping your loved one regain their sense of autonomy and life satisfaction. You provide both the emotional and logistical support that makes their recovery possible.
The team at Rehab Select appreciates this kind of support and strives to support you in any way they can. We encourage walk-throughs and questions and make taking care of your loved one our first priority. If you're looking for a post-stroke rehabilitation facility, call 844-734-2200 or connect online to set up a visit at Rehab Select.