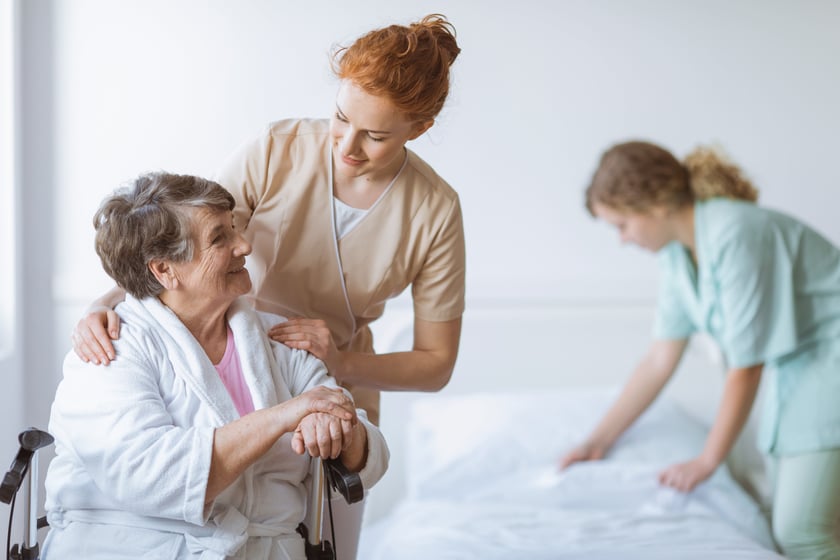 The American Academy of Physical Medicine and Rehabilitation estimates 55% of stroke patients require inpatient care after their initial hospitalization to help them recover. If you or a loved one has been affected by a stroke that caused significant impairment, the best source for care and recovery is an inpatient rehab facility like Rehab Select. We design a post-stroke care plan to guide you toward the most effective path to recovery.
An inpatient post-stroke care plan is a basic, personalized rehabilitation plan to help stroke patients regain as much function and independence as possible before they return home. This recovery is accomplished through a variety of therapies planned by a hand-picked care team of varying specialties.
Your care team meets to determine which therapies would benefit you the most and decides on a plan of action. They focus on the areas that provide the most opportunity and continually monitor and adjust their approach, depending on how you or a loved one responds to treatment.
4 Ways Inpatient Rehab Facilities Can Help with a Post-Stroke Care Plan
1. Improve progress
Inpatient facilities like Rehab Select use evidence-based approaches to design personalized treatment for stroke patients to ensure the best possible outcome for you or your loved one. Your team looks at which treatments are going to be the most beneficial to maximize recovery.
Immediate, intensive care provides the best outcome after a stroke. Without quick, multi-disciplinary stroke care, you could potentially experience slower recovery than necessary. It's essential to seek out an advanced, skilled facility to implement your care plan.
2. Give you access to well-rounded care
Inpatient facilities provide around-the-clock, on-site, specialized care. This type of care is convenient for both caretakers and patients and also offers more comprehensive support for the patient. Your team will likely schedule a minimum of 3 hours of therapy several days per week. This is the level of intensity that is most beneficial for your recovery and attending back-to-back treatments at the same location also improves your chances of recovery.
All your caretakers communicate and meet regularly too so they're on the same page and can support the other's therapy. Your care plan may be adjusted over time to keep pace with your progress. This way, you have the highest level of involvement with the most comprehensive care possible.
3. Offer specialized treatment for stroke patients
Ideally, the inpatient rehab facility you choose should specialize in post-stroke care. The providers at Rehab Select, for example, offer physical, occupational, speech, and any other necessary therapies as well as doctors and nurse practitioners who specialize in stroke recovery. These highly-skilled practitioners all work with stroke patients regularly, so they're the best equipped to meet your needs.
A physical therapist at a rehab facility who specializes in post-stroke care has the specific knowledge to offer treatment such as appropriate stroke recovery exercises. That type of targeted care provides better results and more peace-of-mind for loved ones.
4. Provide additional outside resources
The staff of an inpatient stroke rehab program are knowledgeable about community programs and other resources you may need outside of the rehab facility. Your providers can make referrals to additional medical specialists who might be beneficial. They can also put you in contact with resources you might not know are available, including in-home help and support groups.
Your care plan continues after you leave the facility, for the rest of your life, and typically includes ongoing care and these supplementary resources. Your inpatient providers will show you what your long-term post-stroke care plan looks like after your stay.
After all of this, you may be wondering how well your stroke care plan will work and what life will look like after a stroke.
Can You Fully Recover from a Stroke?
A stroke is a brain injury that often affects speech and motor skills, and these types of brain injuries cannot be fully reversed. However, through your post-stroke care plan, you can relearn standard skills and regain some or all function. You may need to modify certain activities or use assistive devices to restore function, but so many resources are available to give you back your independence.
The National Stroke Association estimates 10% of stroke sufferers regain almost all function and 25% experience only minor impairments. The majority, at 40%, require special care for moderate to severe impairments, which is precisely what rehab facilities offer.
Most progress toward stroke recovery happens in the days and weeks immediately following the stroke, but improvements can still occur over the course of a lifetime. The degree to which you recover depends on the extent of damage to your brain, the quality of care you receive, and your active participation in your recovery.
To learn more about post-stroke care plans or plan your inpatient stay learn more about Rehab Select's stroke rehabilitation program or contact Rehab Select.