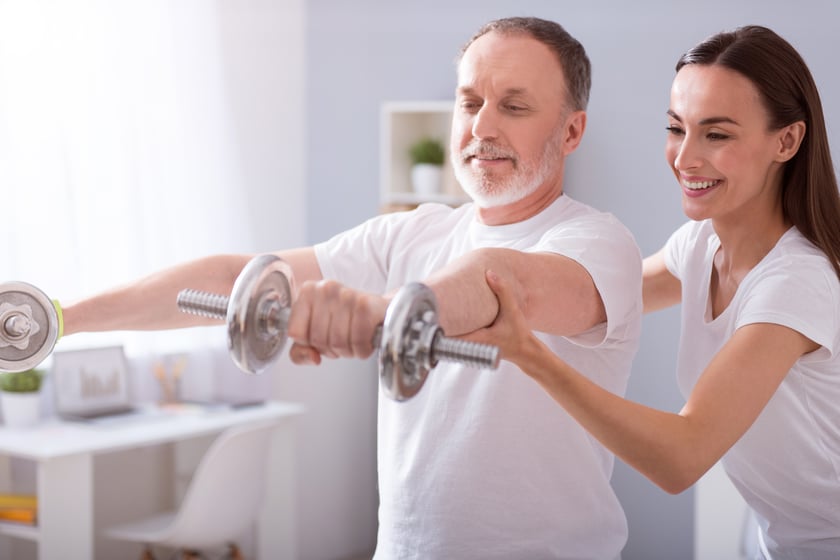 Rehab Select's stroke rehabilitation program aims to promote evidence- and guideline-based care in order to maximize patient outcomes. By improving the organization, direction, and efficiency of care, we are able to support effective education delivery, patient transition, and discharge planning services while simultaneously reducing the cost of service.
To share in-depth how our stroke rehab program helps our patients successfully improve, we chatted with the Director of our Stroke Rehabilitation Program at Talladega Health and Rehab, Beth Ann Roseberry, OTR/L. Beth Ann shared from her 39 years of experience in Occupational Therapy and has been working with Rehab Select for 8 years.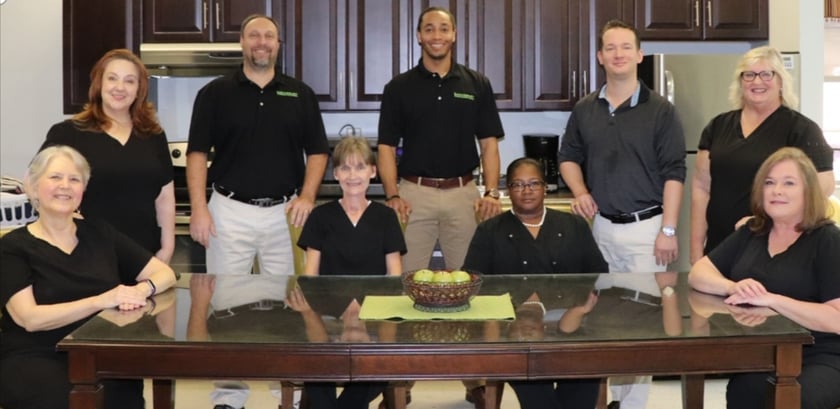 What is the first step when a stroke patient comes to Rehab Select?
Beth Ann: First, we conduct a short term care evaluation within the first 24 hours. We determine the patient's prior level of function before their hospital admission.
The team has a 7 day care plan meeting and 14 day care plan meeting to gather info from the patient and family. Through these meetings, we determine what the patient needs to be able to do as well as what they want to be able to do before they return home.
How do you determine the areas of therapy to focus on?
Beth Ann: Once we complete the patient's evaluation, we begin to identify areas of opportunity for therapy to address. Ultimately, we work as a team to determine which therapy will focus on each area to provide a more individualized focus for key areas. Our ultimate goal is to give them back their individual sense of self-dignity and self-worth by being able to do as much as they can for themselves prior to going back home.
How does the team determine a safe transfer status for each patient?
Beth Ann: Our therapy team determines a patient's abilities to transfer during our initial evaluation by PT and OT. The Rehab Select team then communicates our findings and agrees on a level as follows: Independent, 1 person, 2 person, or mechanical lift. Our Rehab Technician will then communicate with the Nursing Unit Manager so the care plan can be updated to reflect the current transfer status. The Rehab Tech will then place the corresponding dot color on the name tag by the door to reflect the transfer status for all staff to be informed. As the patient progresses in the rehab process, the transfer assist level will improve at which point the dot color will change to update all staff of new transfer status.
What role does physical therapy play in the stroke rehab program?
Beth Ann: From a physical therapy standpoint, PT evaluates bed mobility to include the patient's ability to move from side to side and from supine to sit, sit to stand, prior to addressing transfers and gait. PT also addresses any assistive devices that might be needed such as walkers or canes..
Physical Therapy will work with the family on car transfers as appropriate to ensure the patient can be moved and transported for doctor appointments and other outings.
What role does occupational therapy play?
Beth Ann: An occupational therapist evaluates functional performance with activities of daily living (or ADL)/self-care activities to include dressing, bathing, grooming, hygiene, toilet and tub transfer and any assistive device or equipment needed such as a raised toilet seat or tub bench. OT also determines if the patient has any impaired Range of Motion (ROM ) in the upper extremities as well as what kind of positioning device they might need for optimal joint alignment to prevent contractures.
What are some other areas critical for stroke rehab patients?
Beth Ann: Our program also focuses on tone management for upper and lower extremities. We provide diathermia, which is electrically induced heat or the use of high-frequency electromagnetic currents used to treat pain. We'll also use electrical stimulation (E-Stim) to facilitate muscle movement, which helps patients gain strength and coordination.
If the patient has a dominant upper extremity that they have lost the ability to use, our team will work on compensatory training by using their non-dominant hand to complete tasks using a different strategy for success. Speech Therapy (ST) will have an outside service that does Fiberoptic Endoscopic Esophageal Studies (FEES), which is a study used to directly examine motor and sensory functions of swallowing so that proper treatment can be given to patients with swallowing difficulties to decrease their risk of aspiration and choking. If needed, patients may be referred to a GI specialist for further evaluation and recommendations ST will assess for any impairments with cognition in terms of sequencing safety and judgement.
What type of equipment will a patient need when they return home?
Beth Ann: When returning home a patient may require adaptive equipment, such as built up utensils to assist with eating, or "reachers" if something falls on the floor or is too high or far away for them to reach. If sitting balance is impaired, it's important that our patient has a safe way to reach things. We'll look at other equipment such as a long-handled bath sponge, particularly if they are paralyzed, had a joint replacement, or haven't yet regained their strength.
As the time to return home approaches, OT will become more active with the patient and the patient's family to determine equipment that might be needed. This may include adaptive equipment for the bathroom, such as asking if they have a tub/shower combo or walk in shower, and if they will need a tub seat bench. If balance is compromised, our team will recommend the tub bench and instruct them on how to safely use it. Another example, OT will discuss if the patient has a regular showerhead or if they might want to consider a handheld version.
Another important item a patient might need is a 3-in-1 toilet commode, which can have the height adjusted to go from sitting to standing. If a patient gets sick at night and can't make it to bathroom, they can also put the toilet commode by the bed so they don't have to go all the way to the bathroom, especially if they might not be cognitively as aware when waking up. Another option for those with low activity tolerance is that they may need a place to sit in the bathtub.
A particularly important part of preparing to go home is training for fall recovery. If a patient slips, PT will train the patient and family how they can safely get up.
What's discussed in discharge planning?
Beth Ann: Depending on where the patient is in their rehabilitation, we discuss different topics in the planning meetings. For the 7 day meeting, it's more of getting to know them, finding out things like if they have a one story home, whether or not they have railings, etc.
Ultimately, we start discharge planning from day one. During the 7th day and 14th day meetings, we consider things like if the patient needs help 50% of the time with a transfer, whether or not the family is able to do that. We determine if we need to conduct transfer training with the family and also ask if there is another family member who can help with transfers. During these meetings, we also ask for input from any therapies the patient is receiving.
Our LPN discharge manager will lead the planning meeting to determine if the patient is not able to go home for any reason, if they need to meet with the business office to possibly complete a Medicaid application, or if they need to extend their stay.
What are some practical ways that stroke rehab helps patients?
Beth Ann: One of the things we're the best at is helping people complete the actual tasks in rehab exactly the way they will need to do it at home. This might mean working on upper extremities, having them dress themselves, and really going through their whole daily routine. We'll work on having them dress themselves first, until they have activity tolerance. Then later we'll also ask them to shower, then go back and get dressed, adding a new step as we go. Therapy will determine if they're able to go home and be left alone for 2-8 hours, if they're cognitively safe to be by themselves and able to demonstrate good judgement. We have a full kitchen on site so we work with patients doing things like working from a wheelchair level, see if they can go to the fridge and pull out food, and whether or not they can stand up and reach something like a bag of chips. If they need assistance with any of this, we talk with family or caregivers about what they'll need.
Ultimately, we're working toward what will make them most independent and successful then modify routines as needed. For example, if they can only use one hand, we talk with families about pre-pouring liquids so they're ready and the patient won't have to pour it. However, the only way we know whether or not that's necessary is by breaking down each step and having the patient do it.
We also have a full bathroom in our OT gym, which allows our therapists to go through the necessary routines to help patients feel ready to be able to take care of themselves in that capacity. We also work with CNAs on the floor as patients progress. If a patient is improving in a certain area, such as dressing themselves, we'll let them know so they can let patients try to do it on their own and they'll provide help if needed.
What role does speech therapy play in rehabilitation?
Beth Ann: Speech therapy will work on things like using a VitalStim, which is a type of neuromuscular electrical stimulation (NMES) used to treat dysphagia/swallowing disorders, which our therapists are certified in. We'll also use an E-Stim to strengthen facial muscles, especially because the muscles used to speak are the same to swallow and the patients may be weak on one side. If a trach (or breathing) tube is needed, speech therapists can help to put the valve in place as well as a speaking valve.
Speech therapy will also work with dietary if an alternative diet is needed. They'll determine which liquids they can have and if they need thin, honey, or nectar liquid so they don't aspirate.
If the patient is going home, speech therapists will teach families how to thicken the liquid for better health. They use special cups that only dispense 5ccs of fluid if needed and help the patient to learn how to drink it and safely swallow.
With the Frazier water protocol, (even with patients on thickened liquids), a patient can still have water when not eating food or snack or taking meds because there isn't any bacteria in the water that would cause harm if the fluid went into the lung.
What does a patient's schedule look like in rehab?
Beth Ann: While every patient's schedule might vary, there's a weekly meeting with a psychiatrist to help discover the reason why a patient is having difficulty progressing in therapy, is sleepy all the time or has a lot of pain. This is when the doctor can modify medications or make other suggestions to nursing and therapy as needed.
Patients will see nurse practitioners 3-4 days every week, there are 2 doctors with their own practitioner. If the patient is staying long term, from a therapy perspective, they will do 5 day training with the restorative nursing staff, along with training to work on whatever they need as far as range of motion, splint, etc.
Our restorative staff works 7 days per week and will cover areas that therapy has trained them to continue to work on for maintenance with ADL's and Mobility. After restorative has maintained that level of function for 6-8 weeks, they have a 30-60-90 day check-up to ensure that the patient continues to maintain same level of function.
During the weekly meeting with the therapist, they talk about what will be best to use for the patient, such as a sliding board transfer.
Since each therapy has their own clinic and they're not working side by side, the weekly meeting brings them together or sometimes they will informally give updates on patients in passing to each other.
How long does stroke rehab last?
Beth Ann: While every patient is different, typically a short term rehabilitation might be 21 days, which is typically paid 100% by insurance. However, patients can be covered for up to 100 days. While the plan is still to go home, co-insurance will let them stay up to 100 days, and still not have anything out of pocket as long as the patient is making significant progress.
Our goal is to get patients back to their highest level of function and if they don't get to where they need to be in 21 days, they might spend 45 days to 60 days with them, but the plan is usually to get them back home.
If a patient is long term, that means they're making the decision that they can't return home, and the business office will help them with a Medicaid application to determine if they'll be eligible.
Also, even if a patient is long term, we would still work on car transfers so families can take the patient out for a car ride or go out to eat, or go home for holiday. We look at all aspects even for long term patients and think about quality of life. Just because they're with us more long term doesn't mean that they couldn't go home at some point. The family may want to try taking them home and have someone that can help and social workers can help with that as well.
Finally for patients who have had strokes and can't go to assisted living, we sometimes consider handicap apartments and there are resources in the community to help patients transition and find those resources. Sometimes patients have been able to benefit from that option after 1-2 years in long term care. If therapy has reached a plateau with progress, therapy will refer the patient to restorative nursing and begin that process. From there, nursing can make a referral to therapy if any improvement or decline is noted.,
How do the different therapy teams work together?
Beth Ann: As a team, we have a weekly clinical Prospective Payment System (PPS) meeting to take care of the business side of it. We look at different areas such as, financials, unit managers, nurse manager, discharge, and admissions. Each of these departments can shed light on how the patient is doing and determine if the patient will be ready to go home.
If the patient has different equipment, we can refer to home health and depending on the functional status of the patient, we can also recommend outpatient rehab if needed.
As the time to go home gets closer, we'll discuss if they need a wheelchair if they've never had one. We'll do a home assessment with the family to see if we can safely discharge them to go home. Sometimes they may need a ramp built or we tell them they can rent temporary ramps or even buy a portable ramp from Walmart, which helps if the financial side is a barrier.
Rehab Select has seen great success with stroke patients' recovery in our program, with several facilities even transferring patients to us for rehab. If you'd like to learn more about Rehab Select's stroke rehabilitation program, contact us today.