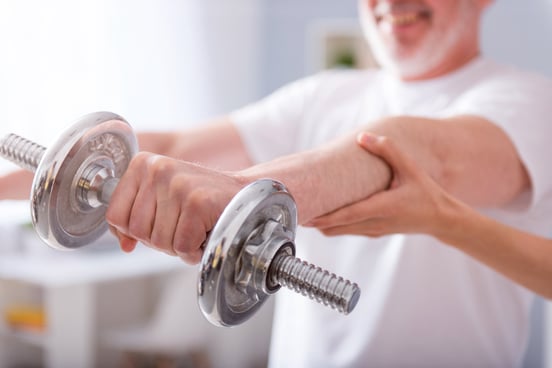 For patients recovering from prolonged illnesses or injuries — strokes, fractures, or neuromuscular diseases — making the necessary adjustments to perform day-to-day self-care, regain cognitive functions, and return to work can be challenging.
More patients are working with occupational therapists to guide them through this process of healing and reintegration. Over the years, occupational therapy (OT) has evolved significantly. In the past, it focused on helping people get back to work after injuries. Today, OT has become the most effective treatment option for patients who want to regain the ability to perform everyday tasks.
Read on to find out what OT encompasses and who can benefit from it.
What Is Occupational Therapy (OT)?
Occupational therapy definition:  While OT may cover a wide range of objectives and activities, it's generally known as a therapy for patients recovering from physical or mental illness. The process encourages rehabilitation through the performance of day-to-day activities.
OT is an allied health profession that uses assessment and intervention to help people recovering from injuries or illnesses to participate fully in everyday activities. It helps patients maximize their ability to do the things they want and need to do despite their limitations so they can increase daily function and independence. 
Occupational therapists focus on the remediation of impairments and limitations. Although the process of OT may overlap with those of physical therapy (e.g., helping patients increase strength and flexibility), it focuses on helping clients learn practical techniques to overcome the difficulties they encounter in everyday life.
How Does Occupational Therapy Work?
Occupational therapy description: Occupational therapists guide patients to establish health and life goals, then work with them to achieve these objectives through intervention techniques, stretching, and exercise to increase strength, flexibility, and mobility.
Here are various methods an occupational therapist may use:
Therapeutic activities: These exercises help patients regain strength, improve sensation and perception, and develop social skills.
Daily activities: These can include self-care, mobility, communication, and the use of assisting devices.
Orthosis/splinting: The use of temporary or long-term splints to help correct deformities, support weak muscles, and/or restore function.
Prosthesis: Help patients adjust to the loss of limbs and integrate prosthesis into the body scheme to develop functional use of the prosthesis.
Biofeedback: Used as an adjunct therapy, it helps patients control physiological processes and become an active part of their healing journey.
Movement therapy: It uses motor patterns available to the patient to enhance progress toward regaining complex movement patterns.
Neurodevelopmental treatment: Help patients relearn natural movement and encourage the use of both sides of the body. 
Occupational therapists may also recommend and train patients to use adaptive equipment (e.g., reachers, specialized utensils, dressing aids, splints) or modify their environment to accommodate the impairments or limitations.
Who Can Benefit from Occupational Therapy?
Occupational therapy can benefit patients in many ways. Here are six outcomes that OT can deliver:
1. Recover From Prolonged Hospital Stays - OT can help patients who have been on extended bed rest to recover from muscle wasting, which can cause repeated injuries. An occupational therapist can help patients regain muscle strength, coordination, and balance with exercise and adaptive options.
2. Regain Independence - Patients who lost their ability to perform daily tasks such as driving, walking, or cleaning due to injuries or illnesses (e.g., stroke) can use OT to overcome their motor, neurological, and/or psychological limitations while lowering the risk of further deterioration. 
3. Develop Memory Aids - For patients suffering from memory loss due to illness or injury, OT can help them improve organization, memory, and attention through brain exercises and behavioral adjustments. For those with severe impairments, OT can offer lifelong support.
4. Re-enter the Workforce - It's often hard for patients suffering from prolonged illness or depression to return to work or find meaningful employment. An occupational therapist can help them gain job skills and modify tasks to avoid inflicting further injury.
5. Participate In School - For children with disabilities (e.g., autism, cerebral palsy, motor disorders), occupational therapists can help evaluate their conditions, customize intervention, help them perform daily activities, and participate in school like normal children.
6. Identify and Purchase Equipment - Occupational therapists help clients select the appropriate equipment (e.g., wheelchairs, bathroom safety devices) so they can adapt to changes in their physical abilities and conduct daily activities as they return or remain at home.
How to Find a Qualified Occupational Therapist
After you've determined what occupational therapy is and if it could benefit you, the next step is to locate an occupational therapist near you. According to the American Occupational Therapy Association, occupational therapists must complete an Accreditation Council for Occupational Therapy Education (ACOTE®)-accredited educational program offered as master's or doctoral degrees. They also need to demonstrate entry-level practice competency through 24 weeks of mentored practice experience before sitting for the national certification exam administered by the National Board for Certification in Occupational Therapy (NBCOT®).
You can work with occupational therapists in various settings, including hospitals, clinics, rehabilitation centers, nursing homes, private practice, vocational programs, accessibility programs, and more.
Look for an occupational therapist who has experience treating patients with specific needs and conditions similar to yours. They should take the time to understand your goals and help you craft a plan to achieve meaningful progress. 
While treatment schedules may differ depending on your needs, patients can often benefit from more frequent and longer sessions. For example, here at Rehab Select, patients can receive personalized one-on-one treatments up to seven days a week and up to three hours a day to accelerate the results. Schedule a tour to learn more about our occupational therapy services.