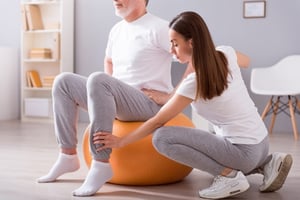 Are you considering inpatient rehab to help you recover from a serious illness, injury or medical event? Perhaps your healthcare team has recommended this option for meeting your care needs, or maybe you have heard good things about inpatient rehab centers from family members or friends who have used their services. So what is inpatient rehab and why can it be important to making your best recovery?
What is Inpatient Rehab?
Inpatient rehab centers are healthcare facilities that are designed to help patients recover and rehabilitate after a serious illness, injury or medical problem. The primary goal of these rehab programs is assisting those patients in restoring functional abilities, independence and well-being lost to their medical issues as quickly and safely as possible.
To meet that goal, patients are provided with an intensive level of rehabilitative therapy, treatment and care. That treatment, therapy and care is planned and administered with the assistance of a physician-led, multidisciplinary team of rehabilitation professionals. That team generally consists of rehabilitation doctors, rehabilitation nursing staff, physical, occupational and speech therapists, care coordinators, nutritionists and others, according to the personal needs of each patient.
Inpatient rehab center patients undergo a minimum of three hours of therapy daily, at least 5 days per week during their stay. To ensure that each patient's personalized treatment plan is effective and efficient in helping them meet their rehabilitation goals, progress towards recovery and rehabilitation is carefully evaluated and monitored by the treatment team throughout their stay. This allows changes to be made to the treatment plan as necessary to promote optimal rehabilitation results.
4 Reasons It's Important
The level of care and services provided in inpatient rehab centers is unique to this setting, unable to be matched by outpatient or home based rehabilitation programs. This environment can be very important to optimizing a person's short and long term recovery from illness, injury, surgery or other serious medical events. Here are 4 reasons it can be important:
Faster recovery – Intensive therapy and treatment can speed progress towards recovery and rehabilitation, getting patients back on their feet and back to their lives faster than might be possible with less intensive outpatient or home-based rehab programs.

Better recovery – More intensive therapy and treatment provided in the inpatient environment often helps patients make better, more complete recoveries than they might with less intense programs, helping them achieve a greater level of functional improvement and independence.

Safety – Inpatient rehab centers offer patients 24 hour medical/nursing care and and a safe, supervised environment in which to work towards their rehabilitation goals, reducing risk of complications, accidents or over-exertion during that process.

Comfort – Patients will have the help and care they need to be comfortable. Details like meals, medications, pain management, wound care, personal care and many others will be placed in the hands of rehabilitation professionals, freeing their time to focus on achieving the best possible recovery.