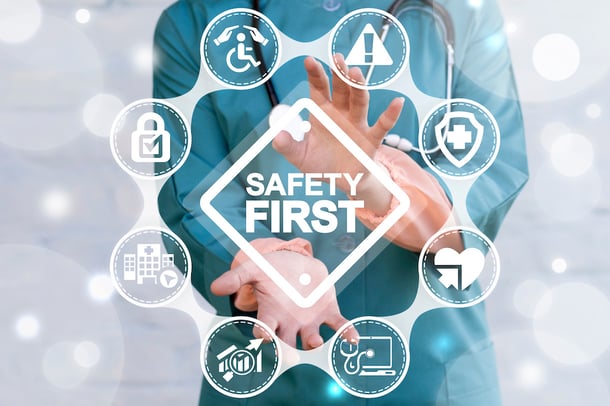 The symptoms of Alzheimer's and dementia can lead to many safety challenges, particularly as frequency and acuity increase over time. Confusion, memory loss and poor cognitive function can go from minor nuisances in an individual's life to presenting major risks, as activities once taken for granted, such as managing medication or turning off a stove, become increasingly challenging.
Download our ebook to learn the most important factors when considering memory care services for your loved one with Alzheimer's or dementia.
Over time, it can become too difficult to safety-proof homes for those living with progressive degenerative memory conditions. The time, cost and knowledge needed to integrate the required safety measures as part of a dementia care plan can be overwhelming, and supervision needs become too great.
At some point memory care living becomes the best option to protect the individual's overall health and safety.
What Is Memory Care Living? 
Memory care living is a type of long-term care geared specifically toward those living with Alzheimer's disease and dementia who are ambulatory. In addition to providing long-term care, memory care living facilities offer heightened levels of security, specialized medical services and day-to-day support.
When assessing the level of safety that a memory care living facility provides, families should ask the following three questions.
1) What Security Features Are in Place?
Several key measures should be part of every facility's design and operations.
Controlled access
Those with Alzheimer's and dementia are at risk of wandering, so it is important to protect them from becoming lost. All doors to the building should be kept locked, and any garden areas should be gated. Elevators should require pass codes.
24/7 supervision and alert systems
Ask how the facility ensures fast response should a resident need immediate help or become disoriented. A high-quality facility will have staff available around the clock. Also, emergency and nurse call systems should be located throughout the facility. Shared areas and hallways should be equipped with cameras.
Emergency and evacuation planning
Emergency situations, such as a fire, present a particular danger for those with signs and symptoms of Alzheimer's disease and dementia, because it becomes more difficult for an individual to orient themselves during times of stress and mobility issues are common. Be sure the facility you choose has smoke detectors throughout, a sprinkler system and easy access to alarmed exits. Also, the facility should regularly conduct safety drills and have procedures in place for how it will safely evacuate residents in case of an emergency.
2) What Medical Resources Are Available?
Many of those with Alzheimer's disease and dementia will require medical support at some point, whether to manage symptoms or for treating unrelated health conditions. Always ask about the depth and breadth of medical support available.
A comprehensive medical team
Licensed nurses and certified nursing assistants should be available around the clock. In addition, a high-quality facility will have a physician conduct weekly rounds and oversee care plans.
Access to therapy services is also important. Some facilities will bring in speech, physical and occupational therapists to minimize a resident's need for travel, as disruption to routine can sometimes aggravate symptoms of Alzheimer's and dementia.
Specialized staffing around how to care for someone with dementia
Memory care living requires a higher level of supervision than other types of long-term care. The best facilities will have low staff-to-resident ratios. Also, staff members should be trained in ways to anticipate the needs of those with dementia and tactics to de-escalate and avoid potential stressors.
Medication management
For optimal safety, medication storage and administration should be carefully controlled. Always ask about procedures to ensure proper medication management and the safe administration of medications.
3) How Are Daily Activities Being Made Safe and Comfortable?
When determining how to care for someone with dementia, you should also consider day-to-day physical and social needs.
Supervised dining
Ability to obtain proper nutrition is a concern for many dementia patients. In addition to experiencing loss of appetite, an individual may struggle with eating and drinking correctly. Staff should be available to aid with dining and ensure nutritional needs are met.
Safe showering and bathroom use
The memory care facility should have a bathroom layout that enables patients to maintain their privacy and independence during personal care while also providing easy access to assistance from staff if needed. Bathrooms should be equipped with grab bars, alarm systems, proper lighting and non-slip flooring to reduce the risk of injury from falls.
Social activities and programming
Depression also can be a risk for those with dementia, as people with symptoms of depression tend to suffer a more rapid decline in thinking and memory skills. As such, meeting an individual's day-to-day emotional and mental stimulation needs should be a key part of any living arrangement. A structured environment with meaningful activities can help patients reduce stress while avoiding isolation. Facilities also should incorporate activities that can be of special benefit for those with dementia, such as puzzles and word games.
Finding the Right Memory Care Support
Most dementia care plans will begin in the home and eventually transition into full-time, long-term care. Taking the first step toward finding the best memory care living facility for a loved one may feel overwhelming, as an internet search for "memory care near me" can yield many results.
The best plan is to look for facilities exclusive to memory care, and then reach out for a tour. Staff at a high-quality memory living program will be happy to discuss how they support residents' safety. 
Are you in the greater Birmingham, Ala., area? Discover memory care living at Rehab Select Talladega. Schedule a tour today to learn about the ways our facility ensures a safe, supportive environment for those with Alzheimer's and other types of dementia. And for more resources on memory care, download our e-book How to Provide the Best Memory Care for Your Loved One.