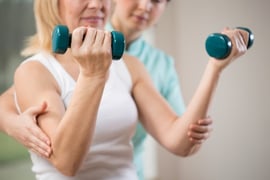 Orthopedic rehabilitation is a crucial element in the long-term success of joint replacement surgeries, working to ensure that patients recover fully and regain their maximum level of joint function, mobility, and comfort. Given the important role rehab plays in terms of patient outcomes, patients who are in the planning phase of these procedures are often concerned with choosing the best possible program. So what kind of orthopedic rehab is best for joint replacement patients?
About Orthopedic Rehabilitation
Orthopedic rehabilitation is a rehab program designed to meet the specialized recovery needs of patients who have had an orthopedic (musculoskeletal) injury or surgery, including joint replacement patients. The goal of these programs is aid in optimal recovery, preparing patients to return to an active, productive lifestyle. Focus areas of the typical rehab program include physical therapy, occupational therapy, and education, among others determined by the specific needs of each patient.
Patients may choose inpatient, outpatient, or home-based therapy programs for rehabilitation after joint replacement surgery. Inpatient programs may be located in dedicated wings of regular hospitals, in specialized rehabilitation facilities, or in skilled nursing centers, and patients may stay anywhere from 1 to 6 weeks depending upon personal therapeutic and care needs. Outpatient programs may be offered at physical therapy practices, clinics, hospital outpatient treatment centers, or in rehabilitation facilities, and patients attend regular therapy sessions on an agreed schedule. Home-based programs provide therapy via rehabilitation specialists who visit patients in their homes.
Which Program is Best for Joint Replacement Patients?
Every patient is different and rehabilitation decisions are best made in conjunction with a patient's health care team. That said, inpatient orthopedic rehabilitation programs are generally considered the most effective type of rehab program for joint replacement patients. Its preference among health care professionals can be attributed to the fact that joint replacement procedures are serious surgeries, and medical care, recovery, and rehabilitation afterwards can be quite challenging. Inpatient rehab programs offer more comprehensive therapy, care, and support than outpatient or home-based programs do.
Patients who attend an inpatient rehab program receive therapy, care, and support from a multidisciplinary team of medical and rehabilitation specialists. This typically includes physicians, rehabilitation nurses, physical therapists, occupational therapists, social workers, counselors and case managers, among other specialists determined by a comprehensive evaluation of each patient's individual needs.
Since all of these professionals are under one roof, communication between them is easily managed, leading to more effective, better coordinated treatment plans for patients than is typical of the average outpatient or home-based program. Additionally, therapy is more intensive in inpatient programs since patients have access to their rehab team 24 hours a day. These advantages lead to faster, more complete recovery and rehabilitation than outpatient or home-based therapy, with patients regaining greater levels of mobility and independence.
So for joint replacement patients with the goal of getting recovery and rehabilitation done and over with as quickly and effectively as possible, inpatient orthopedic rehabilitation programs are probably the best bet. The intensive, tightly-coordinated treatment they offer is the most efficient approach to reducing pain and regaining strength and mobility after joint replacement surgery.