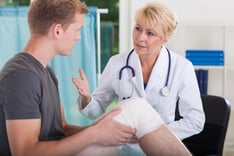 If you are having joint replacement surgery in the near future, physical therapy will be essential to your recovery – second only to the surgery itself in terms of your future health, comfort and mobility. Why is it so important? Here we'll answer that question in detail, outlining the crucial role that physical therapy plays in aiding, healing, and recovery, as well as helping you safeguard your new joint.
Physical Therapy Before Surgery
Physical therapy before surgery can have a big impact on your recovery afterward. Patients who spend 2 to 6 weeks in physical therapy before surgery typically have shorter post-op hospital stays and recover more quickly than those that don't. Often referred to as pre-hab, one of the primary goals of pre-surgery physical therapy is to strengthen and tone muscles throughout the body, but especially those that will surround your new joint and will help to control, support and stabilize it. Other goals include increasing stamina, flexibility, range of motion and cardiac conditioning.
The Role of Physical Therapy Immediately After Surgery
During the first few hours or days after joint replacement surgery, physical therapy plays an important role in helping you learn to manage your new joint and avoid complications, ensuring a healthy start to the healing and recovery process. Depending upon your personal circumstances, physical therapy may begin just a few hours after your procedure or the following day.
The first session will typically be at your bedside with your therapist helping you through a gentle range of motion exercises to maintain flexibility and help prevent blood clots – a fairly common post-surgical complication. Within 24 hours of your procedure, your therapist may help you sit up on the side of your bed, transfer to a chair, or stand and walk. You'll be taught how to properly use adaptive equipment you'll need during recovery, such as crutches, walkers, raised toilet seats and shower chairs, and learn about movement and activity restrictions you'll need to follow carefully as you heal to protect against damaging or dislocating your new joint. Your therapist may also ask you to begin targeted exercise to build strength and flexibility during your hospital stay.
Physical Therapy After Hospital Discharge
Physical therapy throughout the first 3 to 6 months after hospital discharge is very important to achieving optimal function in your new joint and restoring your mobility. Patients who continue with therapy have been shown to heal and recover more quickly, have less pain and stiffness during that recovery, and regain more mobility than those who neglect this step. For some patients, post-discharge physical therapy may begin with a short stay in an inpatient rehabilitation center, while for others, an outpatient therapy program or home-based program may be recommended. Physical therapy during this period typically focuses on walking and stair climbing, balance, safe transfers to a bed, chair or car, building muscle strength, and restoring optimal flexibility and movement in your new joint.
So, as you can see, physical therapy plays an essential role in every step of the joint replacement process. That means that being prepared to follow through with a good therapy program is your ticket to the quick, comfortable and complete recovery after joint replacement surgery.