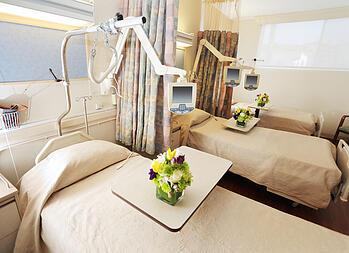 People of all ages value their privacy. From time to time, everyone wants to spend some time alone, whether they are relaxing or just reflecting on things going on in their lives. On the other hand, the vast benefits of social interaction cannot be understated, especially for those who are going through an emotionally and physically challenging time like rehabilitation therapy. This is why semi-private rooms are excellent options for rehab patients: they give patients the best of both worlds by allowing for a sufficient amount of privacy yet also make social interaction very accessible, which gives patients a strong support group from which to draw inspiration and motivation.
The Undeniable Link Between Happiness And Being Social
There are many pieces of scientific research that draw a connection between someone's well-being and their level of social interaction. One of the most notable recent studies was conducted under a joint effort between researchers at Harvard University and the University of California in San Diego. The results of this study found that when someone is happy, a friend living close to them is 25% more likely to become happier as well. For a next-door neighbor, there is over a one-third chance of becoming happier as a result of interaction with someone who is happy.
Social interaction does more than just make you happy: it can help prevent disease, especially for elderly people who may be facing deterioration of their mental facilities. According to the Alzheimer's Association, in a study conducted of 800 people aged 75 or older, those who were more socially engaged had a lower risk of developing dementia. The study also drew parallels between close personal relationships and the prevention of the disease. In an article published in The News Herald, research cited states that social interactions can even improve the physical health of senior citizens.
How Semi-Private Rooms Facilitate Important Interactions
Being in rehab for any reason can be one of the most physically and mentally trying times of someone's life. While it is great to have support from family and friends, building a relationship with someone who knows what you are going through and can relate on a personal level can provide a unique, mutually beneficial relationship that helps both parties succeed in their rehab. A semi-private room helps you build these relationships without impeding on your personal space. Most of these semi-private rooms have curtains or divider walls in place that allow you to be alone when you want to read a good book or simply get some downtime for yourself. While physical rehab from a skilled provider may give your body the strength you need to recover, the relationships that you form with fellow patients can give your mind and soul the emotional support necessary to get back to a normal state of life and begin physically and emotionally enjoying all the things you used to do.