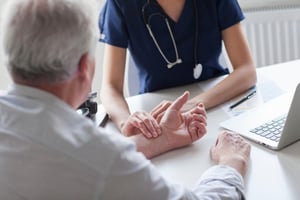 If you are looking into your options for post-acute (after a hospital stay) care or long-term care, the terms you hear as you do that can be confusing. Skilled nursing facility vs nursing home, for instance.
These terms are often used as if they were interchangeable, but they are not. There are significant differences between the two that are important to be aware of as you weigh your care options. Here are 3 key differences between these two types of care:
1. Skilled Nursing Facility vs Nursing Home: The Primary Focus Of Care
One of the key differences between care in a skilled nursing facility and that provided by a nursing home is the primary focus of that care.
Nursing homes are centered on providing custodial care to their residents. Custodial care is assistance with activities of daily living, such as bathing, dressing, grooming, meals, toileting or catheter care, managing oral medications and getting around safely, for example.
Skilled nursing care is very focused on a patient's medical and/or rehabilitative needs, offering care that may include physical, occupational and speech therapy, rehabilitative treatment, wound care, respiratory care, medical monitoring, IV therapy, and injections, for instance, along with day-to-day custodial care.
2. Skilled Nursing Facility vs Nursing Home: Staffing Profiles
Most care in nursing homes can be provided by staff trained in personal care rather than medical professionals. This translates into a staff weighted more towards non-professional healthcare workers, such as licensed practical nurses, nursing assistants and personal care aides, for example, and less towards medical professionals, like physicians, therapists and registered nurses.
The higher level of care that is offered by a skilled nursing facility requires that these facilities are consistently staffed by medical professionals. For that reason, you can expect much greater access to on-staff professionals in a skilled nursing facility as compared to a nursing home, such as physicians, rehabilitative professionals and other specialists, licensed physical and occupational therapists, speech/language pathologists and registered nurses, among others.
3. Skilled Nursing Facility vs Nursing Home: Medicare Coverage
Many people who are in need of post-acute or long-term care options are seniors or people with disabilities who are Medicare recipients. For these people, the distinct differences in coverage when it comes to care in a skilled nursing facility vs nursing home care are very important details to look into.
Medicare will provide coverage for skilled nursing care for up to 100 days – so long as it is medically necessary and your skilled nursing stay comes after a hospital stay of at least 3 days. The first 20 days are typically covered in full, with a co-pay required from day 21 on. Nursing home, or custodial care, on the other hand, is not covered by Medicare, although they may be covered by private insurance, long-term care insurance and/or the Medicaid program.