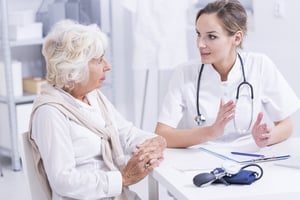 Has a skilled nursing facility been recommended for you or a loved one by a medical care team? If so, you probably have a lot of questions about this type of care and the facilities that provide it. So what is a skilled nursing facility? How do you know if you really need one? Will Medicare cover skilled nursing care?
Here we'll answer these questions as we outline 3 important things to know about skilled nursing centers.
1. What is a Skilled Nursing Facility?
A skilled nursing facility is an inpatient care center that provides skilled nursing care. This is a level of care that must be provided by trained professionals – registered nurses and/or physical, occupational or speech therapists, for instance – and may include services like wound care, medical/vital signs monitoring, intravenous (IV) therapy, respiratory care, management of medical equipment and various rehabilitative therapies, among others.
2. Who Needs a Skilled Nursing Facility?
Care at a skilled nursing facility is generally recommended for people who do not need the level of care offered at an acute-care hospital but require a higher level of medical care or therapy than can be managed at home or through outpatient care services. It may be recommended as a short term option to help people regain health and independence, or as a long term care option for those who cannot safely or effectively care for themselves at home. Common examples of circumstances that can make skilled nursing care necessary include:
A need for daily nursing and/or medical care and/or close medical monitoring due to chronic illness.

A need for rehabilitation therapy and care to aid in recovery from injury, illness, surgery, stroke or other serious medical events.

A need for assistance with managing wound care, medications and/or necessary medical equipment.

Difficulty managing self-care, medical care, and or activities of daily living safely/effectively at home.
3. Does Medicare Cover Care in a Skilled Nursing Facility?
Medicare will cover care in a skilled nursing facility for a limited time after a hospitalization under certain circumstances. This level of care must be medically necessary, as determined by a health assessment, to be covered by Medicare, and you must be admitted to a skilled nursing facility within 30 days of a qualifying hospital stay – which is a stay of at least three days as an inpatient in an acute care hospital. Coverage is limited to a maximum of 100 days. Patients receive full coverage for up to 20 days, and partial coverage for the remainder of that 100-day period. Medicare's website can offer more information on getting coverage for skilled nursing care, as can hospital social workers or admitting staff at your local skilled nursing facility.