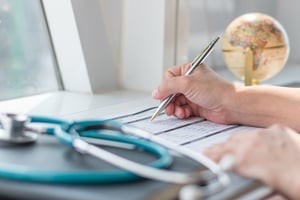 If you are planning a short-term stay in a skilled nursing facility to recover and rehabilitate after a surgery or medical issue, you have probably invested a great deal of time and effort into choosing a facility that can meet your needs during your stay. However, chances are that you, like most healthcare consumers, haven't evaluated your chosen facility's discharge procedures – what you can expect from them as your stay comes to an end.
Why is this important? Because you are very likely to need some support and/or services to make the transition from facility to home a smooth and successful one. A facility that has invested in solid discharge procedures and personnel can make a big difference in just how easily and how well those needs will be met when the time comes to make that transition.
So what should you be looking for as you evaluate discharge procedures?
A few indications that a skilled nursing facility is invested in providing effective assistance at discharge include:
Comprehensive discharge summaries – Having a detailed report that includes a comprehensive account of your condition at discharge and your post-discharge needs is essential to a smooth transition of care, helping to ensure that your post-discharge healthcare providers have the information they need to deliver safe, effective care.

Solid patient/family discharge preparation and education – Patients and/or families should be notified of a decision to discharge as far in advance as possible. They should be provided with information and education as to the patient's condition and care routines, including both written and verbal instructions on issues like medication schedules, wound care, specialized nutritional needs, therapy and medical care needs, among others, ensuring understanding of and preparation for self/family care management.

Comprehensive, collaborative post-discharge care needs assessment and planning – This should include a thorough assessment of the patient's continuing care needs post-discharge and comprehensive planning as to how those needs can be best met. Post-discharge care planning should be a process of collaboration between the patient/family and the care team, including physicians, nurses, therapists, nutritionists and any other care professionals involved with the care of the patient during his or her skilled nursing stay.
Assistance for patients/families in locating and coordinating post-discharge services – A top-quality skilled nursing facility will have discharge planning personnel who are familiar with community care and support resources and are ready, willing and able to help patients and families locate and coordinate the services they need to continue their recovery and rehabilitation safely and effectively after facility discharge.
The takeaway from all of this is that having solid discharge procedures in place is the mark of a high-quality skilled nursing facility – one that will go the extra mile to help ensure the well-being of their patients both during and after their inpatient stay.