At Rehab Select we love to stress how efficient we are at long term care, at getting people in, rehabilitated and back out living their lives at a pace that serves them individually. But we don't spend enough time shedding light on the other aspect of what we do.
Or, more importantly, the result: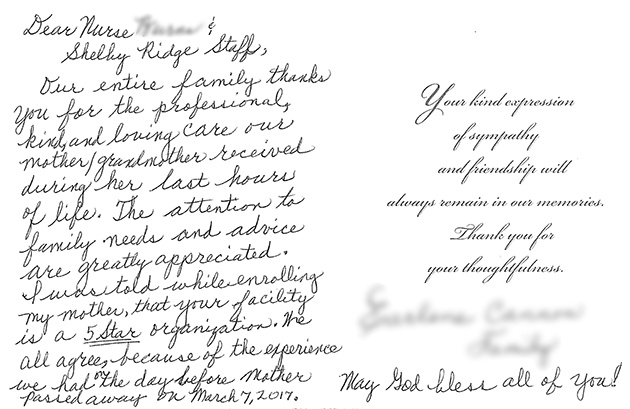 Dear Nurse B & Shelby Ridge Staff
Our entire family thanks you for the professional, kind, and loving care our mother/grandmother received during her last hours of life. The attention to family needs and advice are greatly appreciated. I was told while enrolling my mother, that your facility is a 5 Star organization. We all agree because of the experience we had on the day before mother passed away on March 7, 2017.
- May God bless all of you…

Sensitivity, empathy, and awareness is also what we do, because we know the events that bring people into our care are often scary, traumatic, and sometimes even involve loss. It's part of a practice of compassion that we strive to embody throughout all of our facilities and entire organization.
We prize our quality of care, which is rigorous and adaptive, but it is our patients who help us remember the personal impact we make on their lives as compassionate caretakers.
At Rehab Select we emphasize giving our patients the most personalized long term care possible. We do this by hiring a sensitive and capable staff that is personally invested in the rehabilitation and wellbeing of our patients. That means not hiring contract employees, but passionate individuals who become part of the fabric of our organization. That means employing healthcare professionals that are perceptive of the concerns and desires of our patients and their families.
It also means our patients leave us feeling well cared-for, and their families more trusting. So while we want you to know how good we are at what we do, we also want you to know that we care about how we do it too, and our patients notice.