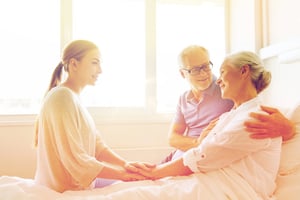 The need for long term care can arise for a variety of reasons. Perhaps your loved one has had an illness, injury or surgery and will require more care during recovery than can be provided reliably at home. Perhaps there are longer term issues, such as chronic disease or significant disability that require ongoing skilled nursing care. Whatever the reasons, choosing the right long term care facility to meet your loved one's individual needs is important, and here we've put together some pointers on just how to accomplish that goal.
List Your Options
Selecting long term care for your loved one begins with exploring your available options by making a list of long term care facilities in the area. Potential sources of information on this include recommendations from healthcare professionals, hospital social workers or discharge planners, friends and family, local senior citizen organizations and Medicare's Nursing Home Compare web page.
Narrow Your Options
The next step is to research the options you've gathered to form a short list of the best ones. First, you'll want to make sure that each facility you're considering is licensed. Your state's health and human services department can help you with that. Your state's long term care ombudsman can help you find out about any serious complaints or citations related to facilities on your list, as well as other details, and Medicare's Nursing Home Compare can provide information on quality of care, including staffing details, health inspections and quality measures.
Then, if your loved one needs special services, physical, occupational or speech therapy, oxygen, IV therapy or tube feeding, for instance, check whether facilities are able to provide for them. You'll need to research costs, including basic rates and what services are and aren't included in them, as well as insurance details. If your loved one participates in Medicare, which may cover shorter-term stays, or Medicaid, which can cover ongoing care, you will need to make sure that facilities you're considering are Medicare and Medicaid-certified, and if private insurance will be footing the bill, whether your loved one's plan is accepted. A call to the facility's business office can provide you with the answers you need.
Visit Long Term Care Facilitates That Made Your Short List
Once you have a short list of long term care facilities that make the grade in terms of care quality, costs and insurance details, the next step is to visit each facility on that list. Most offer guided tours for potential residents or their representatives, but it is a good idea to also make an unscheduled and informal visit to have a look around. Details to take heed of as you visit include:
Cleanliness – Are rooms and common area well kept? Are there offensive odors?

Are residents properly dressed, groomed, active and happy?

Are staff members warm, helpful and respectful to residents and guests?

Are there interesting and meaningful activities available for residents?

Is the atmosphere comfortable and welcoming, or strictly institutional?

Are visitation and family involvement in care and planning welcomed?

Are there safety precautions in place – handrails, call systems and smoke detectors, for instance?
Once you have taken all of these steps, you can be reasonably secure in the knowledge that the long term care facilities that have survived your vetting process will be solid options. The final choice is then down to preferences – a matter of choosing which of the facilities left on your list is most appealing to you and your loved one.