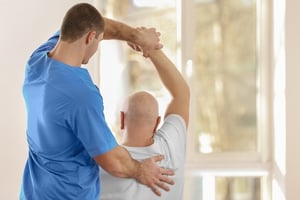 Physical therapy in a skilled nursing facility plays a number of important roles in the care of the clients they serve. It can provide benefit to these clients whether they need short-term skilled nursing care for rehabilitation after an injury, illness or medical event or longer-term care due to chronic health conditions or disability. Here, we'll look into the various roles skilled nursing facility physical therapy can play in the overall care provided by these facilities.
Skilled Nursing Facility Physical Therapy for Short Term Patients
Physical therapy typically plays a primary role in the care of people who seek short-term care in a skilled nursing facility. In these cases, a stay in a skilled nursing center is used as transitional care, with the goal of helping these patients recover and rehabilitate from the affects of a serious illness, injury or medical event, regaining their own best possible level of functional ability, well-being and independence.
For example, physical therapy may be used to help patients improve the strength and function of limbs weakened by stroke, restoring more efficient movement. It can be used to help strengthen and improve flexibility in joints affected by arthritis, reducing pain, inflammation and stiffness. Physical therapy in the skilled nursing setting is also often used to aid patients in restoring mobility and/or improving balance and gait after hip fractures and other orthopedic injuries, or as they recover from joint replacement procedures.
Skilled Nursing Facility Physical Therapy For Long Term Residents
For people who are long-term residents of a skilled nursing facility, physical therapy may be less intensive than it generally is for shorter-term rehabilitation patients. However, it still plays a vital role in their overall care.
For instance, physical therapists often work to help patients who seek skilled nursing care due to degenerative conditions, such as arthritis or Parkinson's disease, maintain their best level of function and independence, slowing the disabling affects of these progressive diseases. Residents who have mobility problems can regain some independence and safety via balance and gait training. Residents who are largely confined to wheelchairs can often benefit from regular physical therapy as well, with therapists working to help them maintain the best possible range of motion and strengthen muscles in the back and abdomen to prevent slumping and improve comfort levels.
These are just a few examples of the many ways that skilled nursing facility physical therapy can benefit people who need short- or long-term skilled nursing care. The bottom line is that a solid physical therapy program can offer individuals the means to reduce pain, improve physical function and increase or maintain their level of independence, factors that impact their overall quality of life.