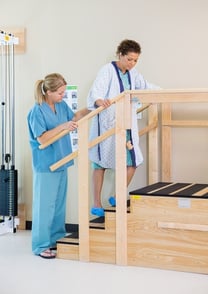 When your life is interrupted by illness or an accident and you need expert rehabilitation services, occupational therapy (OT) can help you regain the life skills necessary to get back to your day-to-day routine and recover your independence. Just as physical therapy helps you regain your range of motion and mobility and cognitive therapy fires up your brain, occupational therapy helps you perform those daily tasks that are seemingly out of reach.
As you begin any OT program, you'll be evaluated so that your therapist knows the degree of your incapacitation and can judge the best way to work with you. Your loved ones can be present for the evaluation. Together you can help determine the goals you hope to meet through occupational therapy.
Occupational therapy programs are personalized to help the individual regain the ability to perform tasks meaningful to daily life. Your therapist will not only assist you in learning ways to adapt and move forward through your illness or injury, but will also help determine any adjustments that need to be made to your personal environment, such as ramps and modified appliances.
How to Find a Therapist
In most cases, your physician will recommend a few OT programs and you may decide based on your preference and insurance coverage. Your doctor is the best source of information regarding occupational therapy. If your physician doesn't offer a choice, contact the office of social work at the hospital where your surgery was performed or where you recovered from your illness.
Insurance and OT
Medical insurance typically covers therapies that help recover living skills such as bathing, dressing, and eating. Depending on your type of medical coverage, OT programs may be limited to a set amount of time. This will factor into your therapist's evaluation when you begin your therapy.
Many individuals who are in need of OT fall under the age of Medicare. Although some Medicare supplements will provide additionally for your OT, Medicare alone will cover much of your costs.
If your injuries are the result of an automobile accident or negligence, the at-fault party is responsible for your rehabilitation. If the at-fault party is unable to provide for your post-injury care, your medical benefits should cover your occupational therapy. Of course, insurance plans and even Medicare supplemental coverage will vary. For definitive answers, it's best to contact your insurance provider.
OT Techniques
Because occupational therapy programs are individualized depending upon the injury or illness, abilities, and the expected outcome, it's necessary for occupational therapists to employ different techniques. For example, those recovering from surgeries like hip or knee replacements may focus on maintaining balance and the use of grab bars. For those with debilitating emotional illness, treatment may involve relaxation techniques to restore a sense of calm. Your OT fits the technique to your specific need.
Finding the Right OT Program
For occupational therapy programs to be successful, they must be part of the bigger picture. You need a rehabilitative plan that works to help regain mobility and critical thinking. To find the right therapy plan for you, it will be necessary for you to be evaluated and re-evaluated as you progress toward your recovery. The road ahead may seem frustratingly long and filled with obstacles, but with the right OT programs you'll be able to overcome those challenges and find your way back.