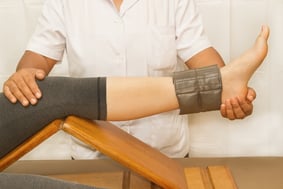 Effective rehabilitation therapy is crucial in the recovery of knee and hip replacement patients, helping them to regain strength, flexibility, and mobility, speed recovery, and avoid complications. However, patients are generally offered several short term rehab options as they work to plan their procedures with their health care team. For the average patient, who will have limited experience with rehabilitation therapy, choosing among these options can be confusing. Knowing what you can expect from the most common rehab options can make choosing a lot easier, so here we'll go over those details.
Inpatient Short Term Rehab
Inpatient short term rehab programs offer comprehensive rehabilitation and care services in a hospital-type setting. You may find them offered in a dedicated wing of a local hospital, in specialized rehabilitation hospitals, or in skilled nursing centers. Patients who use this option for rehabilitation and recovery can expect to be evaluated, treated and educated on living with their new joint by a team of rehabilitative specialists, including physicians, rehabilitation nurses, physical and occupational therapists, counselors, and case managers. The goal of these intensive rehabilitation programs is to speed recovery, helping each patient restore their optimal levels of comfort, health, mobility and independence after hip or knee replacement therapy.
Among the advantages of this option are that every aspect of care during the initial recovery period is placed in the hands of rehabilitation professionals. This gives patients a chance to put their focus on getting better with no worries about traveling back and forth to therapy sessions and medical appointments, managing household tasks, or dealing with issues like personal care and wound care on their own.
Outpatient Rehab Therapy
Outpatient rehab is another option that is offered to patients who will be having joint replacement procedures. These programs are offered by general and rehabilitation hospitals as well as physical therapy clinics and practices. Patients who participate in outpatient programs will go home at discharge from the hospital, attending physical and occupational therapy sessions several times a week. They will also be asked to do exercises on their own between sessions.
One obvious advantage of outpatient therapy is enjoying the comforts of home as you recover. However, there are disadvantages. If you live alone, you'll need someone to stay with you for at least a few days, and preferably longer, after your surgery. You'll also need help getting back and forth to appointments, since driving won't be an option for a few weeks. Additionally, you'll have less time with therapists than you would in an inpatient program, which can affect how quickly you get back to your normal activities.
Home Based Short Term Rehab Therapy
Home based therapy is the third option commonly used for short term rehabilitation. Patients are discharged to their homes after surgery, with therapists coming into the home for sessions. While there are advantages to having therapy at home, where your therapist can get a good idea of your typical daily activities and needs, there are some limitations that aren't an issue with other options. For instance, time with therapists is generally limited to an hour a couple of times per week and therapeutic equipment will be limited to just what your therapist can carry or what is already present in your home.
So there are your basic options for rehabilitation after hip or knee replacement. Of course, your own health care team is the best place to turn for advice on which may be best for you, but for most patients, an inpatient rehab program is the best route to a quick and complete recovery.